Memorial held on campus for professor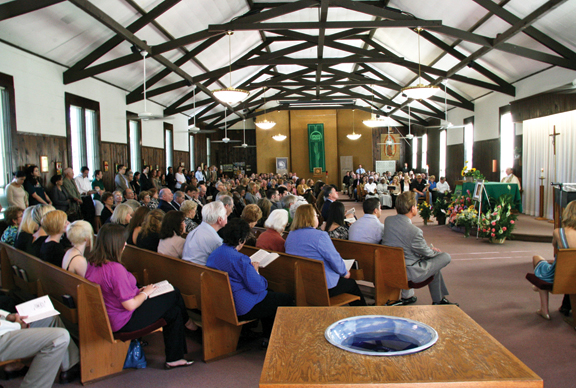 Nancy Gonzalez
September 29, 2009
The St. Edward's University community gathered Saturday to celebrate the life of Sara Medina-Pape and the impact she had throughout her career.
Services for the retired theater professor were held at Our Lady Queen of Peace Chapel, followed by a reception outside Doyle Hall.
Faculty, family and friends shared memories of Medina-Pape, who died Sept. 18th at the age of 56.
"A wife, mother, teacher, artist, and mentor," said Ev Lunning, assistant professor of Theater Arts. "She would simply not give up. It's not something she would consider."
Medina-Pape began her career at St. Edward's in 1990 working in the costume shop. She eventually became a professor of Theater Arts and produced award-winning creations for the Mary Moody Northern Theatre.
Loved ones celebrated Medina-Pape's extensive work and achievements during the ceremony. Amy Medina Repp recalls her sister's fearless attitude and passion for adventure.
"She was a force to be reckoned with," said Medina Repp. "But she made life so much fun. Always telling me to push myself and try new things."
Her efforts extended to becoming an ardent supporter of the SEUganda Project, through which she was able to offer hands-on experience to students in order to provide relief to the women of Uganda.
After being diagnosed with pancreatic cancer in 2000, Medina-Pape faced her illness as a challenge, turning it into another opportunity to help others.
"Sara's sense of commitment to her fellow human beings played a large part in her life," said her husband, Brian Pape. "And for the advancement of medical knowledge, she underwent clinical trial treatments in hopes she could help others."
Melita Hawkins, a former theater student, remembered her professor as a caring friend years after taking her class.
"During Hurricane Katrina, Sara let my family come stay with her in Austin until it was safe to go home," said Hawkins. "That's just the kind of person she was."
T'Cie Mancuso, costume shop manager, wrote a farewell letter to Medina-Pape, praising her former colleague's years of service at the university.
"You were a great teacher who always inspired your students to seek their own path," said Mancuso. "And for that, they'll always love you."
Even at a young age, Medina-Pape's childhood best friend, Nanci Taylor, recalled the enthusiastic nature of the girl who moved in next door the summer of 1967.
"Sara left a lasting impression in all our lives," said Taylor. "And it's wonderful to know  four decades later, nothing has changed."
Medina-Pape's children, Natalie and Ian Pape, joined their father for a final reflection, concluding with words of inspiration.
"Let her spirit of compassion and generosity live on in the lives she touched," said Brian Pape. "It's what she would want from each of us."