Austin's all Asian comedy group rebels against stereotypes with humor
Asians descended upon the stage of the New Movement comedy club, armed with confetti cannons, sex jokes, and a nifty Kim Jong Un caricature to really liven up the party.
On Saturday Sept. 30, Austin's only all-asian sketch comedy group, Hot Pot Comedy, rolled out their first full sketch show, "This Asian American Life." Comedian Virgil Shelby described the show as a "blue-collar comedy tour but from the perspective of Asians."
"The inspiration was definitely playing with the idea of stereotypes," Shelby said. "And kind of reclaiming a lot of those stereotypes and having them come from an Asian voice rather than a white guy doing a Fu Manchu accent."
The group uses comedy to take control of their narrative as Asian americans, rebelling against racial stereotypes with their personal stories. This effort is actually part of a much larger push for better representation.
"We are trying to carve out a niche for ourselves," Shelby said, "because there's this movement happening in the media and in film where more asians are speaking out against wage disparity, against whitewashing of roles."
The message is clear. People want media that actually reflects themselves in a genuine way and not as stereotypes, tokens, or not at all. And the Asian American community is no different.
"We were trying to sidestep away from all these typical stereotypes," comedian and St. Edward's alumni Santino Fernandez said. "We are either put up as this model minority or extremely exotic. It makes us caricatures rather than human beings."
The ingenuity of this movement lies not in that fact that it's extraordinary, but that it's ordinary; it's the voice of the real, untold stories of Asian Americans.
"We centered it," Fernandez said, "around the concept of trying to define how we identified ourselves, and how our asian-ness is not our main identifier, but other aspects that make us who we are, while also putting respect to our cultural identity as well. Then after that, we made jokes and monologues that fit into that."
The crowd favorites always drew attention to the absurdity of asian stereotypes by imagining them into the authentic life of asian americans.
Raunchier sketches, like one of a young Asian couple caught having sex by their parents, rebelled against the idea of social conservatism in Asian cultures and the lack of depiction of Asians in a sexual nature.
Others, like one of Kim Jong Un winning the imagined show of North Korea's Got Talent through his dictatorial rule, worked to liven up some heavier topics.
"Talent shows are everywhere, everyone's got a talent show, but does North Korea?" Shelby said. "And why not? So we played with that idea. And we had fun coming up with what ridiculousness. You get those tidbits of the authoritarian rule but framed in in such a way that you could 1) relate, 2) be horrified by it but 3) also have a laugh because we need to be able to laugh at things."
Comedian Joseph Tran spoke directly to why this show specifically held great importance to him.
"I'd never done anything that was personal, or political, or about race," Tran said. "But just because of the direction and the climate of the country, I wanted to talk more about race and realizing things about how it is to be asian in the context of a mostly white country. It felt really cathartic to bring it out."
The troupe is excited to continue telling real asian american stories through comedy and, with an entertainment industry that continues to tokenize and stereotype asians, they don't expect to run out of material anytime soon.
About the Writer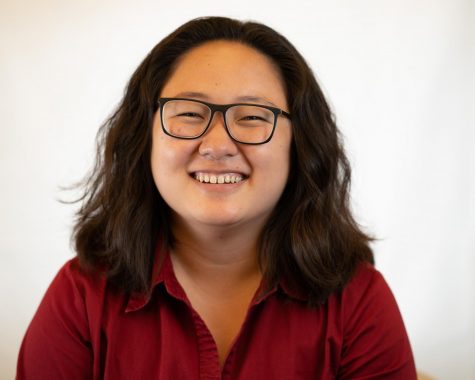 Lilli Hime, Staff Writer
I am Lilli Hime—English Writing and Rhetoric major and freelance writer at Hilltop Views. This is my senior year at St. Edward's University.

My role...