#TrumpTweetTruck campaigns against Ted Cruz ahead of midterm elections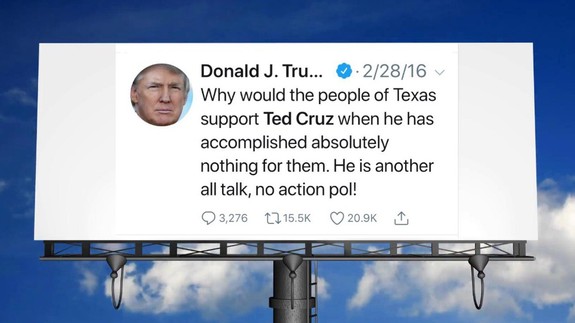 With Beto O'Rourke edging closer to his incumbent opponent Sen. Ted Cruz in recent polls, three activists from different parts of the country created the #TrumpTweetTruck to highlight the president's recent change of heart when it comes to Senator Cruz.
It all started when Texas activist and founder of USA Latinx, Antonio Arellano, tweeted, "On the market for a billboard, outside the biggest stadium in Texas we can find. #TxSen"
Attached to Arellano's tweet was a photoshopped image of a billboard with an old tweet posted by President Trump in 2016.
In the tweet, President Trump criticized his then primary opponent Senator Cruz by tweeting, "Why would the people of Texas support Ted Cruz when he has accomplished absolutely nothing for them. He is another all talk, no action pol!"
After receiving an enthusiastic response, Arellano then created a GoFundMe with a goal of $6,000 to purchase a mobile billboard featuring the President's tweet.
The cause quickly caught the eye of Parkland survivor and gun control activist David Hogg as well as Claude Taylor, the founder of Mad Dog PAC, which has rented the billboard alongside USA Latinx.
Arellano quickly shared the news with his twitter following, tweeting, "UPDATE: I am now officially collaborating with @TrueFactsStated and @davidhogg111. The money raised by this account will go towards funding a mobile billboard to maximize visibility and impact." He ended the tweet with a link to his GoFundMe page.
Taylor assisted Arellano's fundraising efforts by announcing the collaboration to his followers and tweeting, "Mad Dog Pac http://MadDogPac.come is pleased along with @AntonioArellano and @davidhogg111 to help make #TrumpTweetTruck a reality. This is all about anti Cruz/anti Trump trolling. I have not spoken to, texted, emailed, met or coordinated with any campaign or candidate."
With the support of these activists, the $6,000 goal was met with ease and by the time Arellano decided to stop taking donations, the GoFundMe had already raised $9,760.
In a tweet, Hogg celebrated the campaign's success with his followers once the fundraising goal was met with the tweet, "We did it!!!!! Thank you to everyone who contributed."
The activists made sure to keep their followers updated throughout the organization process.
For example, Hogg decided to share with his followers that the tweet from President Trump would be featured on a mobile billboard instead of a traditional billboard.
In his tweet, he included an edited photo to allow his audience to visualize what the billboard would eventually look like, tweeting, "Update Here's the first mock-up: we are making the billboard mobile so we can follow Trump and Rafael around Texas. Can't wait for y'all to see @POTUS @tedcruz #USA 🙂 #VoteNovember6th"
The billboard hit the road in Dallas on Sept. 11, starting at the office of Jana Sanchez, the Democratic candidate for U.S. Congressional District TX-6. Her official twitter account posted a photo of the truck and stated, "This just rolled by our office. Go @BetoORourke"
Arellano quoted the Sanchez's tweet and added, "First official sighting. The #TrumpTweetTruck is officially on the road in Dallas."
Since then, it's been spotted all over Dallas and Fort Worth by residents who have shared their sightings via Twitter.
Twitter user Norma Garcia-Lopez (@normalGLpz) shared multiple photos of the truck around town and commented, "The #TrumpTweetTruck is in Fort Worth, TX at Famous landmarks at @BillyBobsTexas @JoeTGarcias @ftwStockyards Thank You to everyone that made this possible! Vote @BetoORourke #BetoForSenate #BetoForTexas #ByeTedCruz #FortWorth #Texas #45DontLikeTed"
Another local, Randy Mills (@randymills4349) also shared a photo of the truck and his thoughts with the tweet, "@tedcruz It looks like @realDonaldTrump called this one correctly. #LyinTed is all about Ted and not for Texas. #TrumpTweetTruck"
David Hogg also shared his excitement about the launch of the truck, stating, "If you see the truck please take a video and @ me. This makes me so happy."
The truck made its way down to Houston on Monday, Sept. 17. Hilltop Views was able to contact Taylor to ask about the future of the billboard after it finishes its Houston route.
"After that it will depend if we get enough funds in to cover it. It costs about $4,000 a week. We'll do cities all over Texas if we can," Taylor said. "We are doing [all further] fundraising via http://MadDogPac.com. We depend on small dollar donations and sales of tees to fund our projects. We call that crowdfunding."