BREAKING: Pavilions evacuated after water line burst
The Pavilions West Wing has been completely evacuated after a water line burst on the third floor of the apartment complex around 8 p.m. according to Campus Safety.
"Water started pouring in through everyone's rooms and through our kitchen," junior Alyssa Chern said. "When we walked outside, there was water gushing out from the ceiling and the hallway. We ran downstairs and there was water everywhere."
Affected students were directed to the Recreation and Convocation Center until further notice.
"I don't know what the state of my room is currently, so I'm really nervous about that," junior, Kate Schooley said.
University administration is working to ensure that updates are reaching the student residents.
"Watch the St.Ed's social medias because that is where the latest information is going to be presented," Director of University Communications Mischelle Diaz said.
The pavilions are home to over 440 students.
UPDATE: As of 10:45, most students have left with their own arrangements for the night. Other residents are still waiting for word about further housing arrangements.
Resident assistants and resident directors escorted some students back to the apartments for medication and other necessities.
Remaining students were told they can stay in East Hall.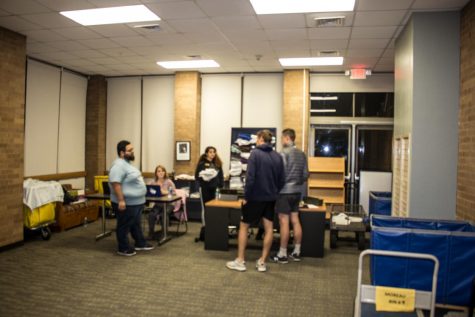 UPDATE: Senior Director of Communications Michelle Diaz held a press briefing the morning after the flood at 9:30 a.m. in which she shared the timeline of events, plans for relocating students, and resources.
At approximately 7:30 p.m., a chilled waterline that was in the North wing burst, leading to "rapid flooding" in apartments, hallways, and common areas, leaving water damage to multiple wings and floors, according to Diaz.
Last night at midnight, approximately 134 students who live in the South wing of the complex were able to return to their apartments. The remaining 270 students were forced to relocate to East Hall; many opted to stay with friends or family in town.
As of now, there is no timeline for a clean up while remediation crews assess the damage.
Diaz said the chance of residents returning to live in the pavilions this year was "highly unlikely."
Resources for students include free food services from Bon Appetit using their student ID cards as well as free laundry and moving assistance. The university will provide an information and resource center in the center of campus, later announced to be in Mabee Ballrooms, "where students can go for information, know what to do next, (and) get help with certain things," according to Diaz.