Year Of The Woman: 5 female artists shaking up the music scene
At times, it can seem like the music industry is constantly pumping out carbon copies of artists, almost as if there is a formula for putting out the perfect pop star. For music lovers, this can quickly get monotonous.
However, listeners should have no fear. For every one robot musician, there are five up and coming, underappreciated artists making new music. More specifically, it seems to be the year of women in music. For your listening pleasure, here are five women in music to look out for this year.
King Princess
Mikaela Straus, better known as her stage name King Princess, is the genderqueer artist of many young women's dreams. "I hate it when dudes try to chase me," she sings on her hit "1950," a track about young, female love. For LGBTQ+ youth, her songs offer solace that can be hard to find in real life. Comfort lyrics mixed with her raw, almost rock-like vocals provide a sweet escape as her music takes you to a simpler time.
Kacey Musgraves
"You got me smiling with tears in my eyes," sings Grammy nominated Musgraves on her standout track "Happy and Sad." Never has one's worst fears and highest hopes been summed up so sincerely within a single lyric. This is what has catapulted Musgraves to international acclaim. Far from the typical country singer, Musgraves has managed to appeal to audiences of multiple genres. With four Grammy nominations this year, Musgraves' star is sure to only shine brighter.
Clairo
With so many people claiming to be "self-made" musicians, it can be hard to stand out when almost anyone can upload music to Youtube. Clairo has managed to harness this energy while still proving that she has talent to have made it otherwise. Soft vocals and lo-fi sounds have led to her categorization in the bedroom pop movement, despite not intending to. Whatever genre she may see herself as, she is one to watch in 2019.
Lucy Dacus
"You threw your books into the river, told your mom that you're a nonbeliever," is a hell of a line to deliver to the listener as the first few seconds of "Nonbeliever" start to play. For anyone who has ever had what seemed like a mid-life crisis in their twenties, this song will hit like a punch to the gut. This is what Dacus is best at: delivering blunt, unassuming lyrics. Her steady voice lulls you into false security until you realize that she just shattered your world view with just two lines.
Maggie Rogers
Is there a better way to find fame than through a video of Pharrell Williams crying to your song in a masterclass gone viral? That's exactly what sprung Rogers into the limelight in 2016 with her song "Alaska," a song that layers beautiful nature imagery over simple piano and 808 drum beats. With the 24 year old having just released her full length, debut album, it's clear that she is much more than a viral video. She's here to stay.
About the Contributor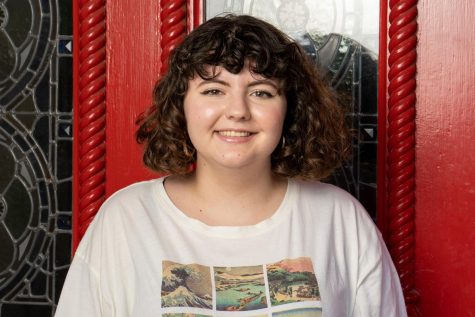 Sierra Rozen, Life and Arts Editor
Hi! My name is Sierra Rozen and I'm the Life and Arts editor. I'm a senior Communication major, with double minors in Journalism and Women's Studies. This...