Hozier releases highly anticipated second album after five year hiatus
After five years of sweet, sweet anticipation, Hozier has finally crawled out of whatever forest he was living in to bless our ears with his second album, "Wasteland, Baby!"
With the release of his self-titled debut album, Hozier quickly found himself shooting to Top 40 fame, made possible by the success of his first single "Take Me To Church." Though disappearing after finding mainstream success is not something most musicians decide to do, it actually works in his favor here.
By giving himself time between albums, Hozier was able to not only avoid a sophomore slump that can be found with such high expectations from fans, but it also allowed him to tinker with and perfect his latest project.
This is not to say that "Wasteland, Baby!" is as strong of an album as "Hozier" is, but it is important as a listener to go into this album without the intent of comparing the two.
"Wasteland" revolves around the idea of the Earth ending, but being ok with it as long as you have your lover with you. While his first album touched on these ideas, it did so in a gentler way. This album smacks you in the face with it.
We saw the questioning of religion on his debut album, but on "Wasteland" he heavily incorporates it, along with some Greek mythology and political references to top it off.
This is best seen in the opening track "Nina Cried Power," which features legendary gospel singer Mavis Staples. The song is an ode to the protest anthem, and namedrops some of the most famous singers credited with this movement, from Nina Simone, to Joni Mitchell and  James Brown.
"Nina Cried Power" is the standout track of the album, as it is something very different from Hozier's usual style with an almost angry vibe to it. Featuring a heavy drum beat and a gospel choir-like chorus, it will have listeners on their feet, stomping along.
At first listen, Hozier's music can seem quite innocent with the amount of pretty guitar strumming and subdued vocals he incorporates. He blows this misconception out of the water with tracks like "Talk" and "Be," back to back songs that can only be described as sexy and soulful. Both tracks bring in lines referencing Greek mythology.
"I'd be the voice that urged Orpheus…and I'd be the immediate forgiveness in Eurydice," he croons as he draws upon the Greek myth of the doomed lovers.
This language draws listeners in, bringing them to Hozier's state of mind — more specifically, how he views his love affairs. Yes, he may romanticize them, but it's a lot more fun to think of them this way.
Overall, Hozier's second album is a solid effort for a man who was thrown into a spotlight that he subsequently withdrew from. Whether he wrote this album in some kind of hidden woodland paradise or not, we are lucky he decided to write it at all.
And as the man himself says on the final track, "That's it."
About the Writer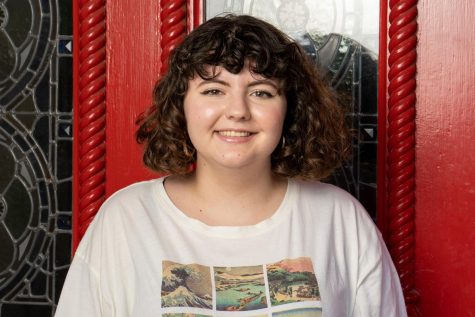 Sierra Rozen, Life and Arts Editor
Hi! My name is Sierra Rozen and I'm the Life and Arts editor. I'm a senior Communication major, with double minors in Journalism and Women's Studies. This...