Library hosts panel discussion on controversial national emergency declaration
Panelists debate influences of policy, white supremacy, racism on emergency declaration.
Hang on for a minute...we're trying to find some more stories you might like.
In conjunction with the Center for Ethics and Leadership, the Munday Library hosted a panel called Let's Talk: National Emergencies on Wed. March 27. Speakers were invited to discuss the national emergency that President Trump has recently declared.
This is the second installment of this event, and library staff says the purpose is to "address things that are happening in our world."
Among the speakers were Kris Sloan, Associate Professor in the School of Education and Director of the Social Justice Living Learning Community, and Jack Musselman, Director of the Center for Ethics and Leadership and Associate Professor of Philosophy.
Sloan talked about the rhetoric behind the national emergency. He said that Trump uses metaphors to get people to support him.
"The wall is a metaphor of racism and white supremacy at its root," Sloan said.
He cited George Lakoff, an American cognitive linguist, on the power of metaphors. Sloan said that in describing Mexicans as rapists and killers, and the wall as a barrier to danger, Trump is using the power of metaphor to persuade his supporters.
Sloan said that Trump uses this language when describing immigration and drug issues in the U.S. and offers the wall as the only solution.
"It's not real, it's a metaphor," Sloan said.
The national emergency issue was also discussed from an environmental perspective.
Panelists discussed how animals like the ocelot and the green jay will be impacted if the wall is built. Approximately 1,000 green jays live in the U.S. and half are found on the border. In addition, the ocelot is the most endangered cat in the U.S., but a small population resides in Brownsville, Texas. If a wall is built, that population won't be able to mate with ocelots on the opposite side of the border.
They also said that the barrier in the Rio Grande Valley is curvy at most, compared to the jagged and twisty borderline. This means that the barrier is, at some points, up to one mile away from the actual border.
Panelists also talked about how a border wall could impact landowners living on the border.
Currently, under eminent domain, the government can take land away from people as long as it offers them just compensation.
Musselman said that people can challenge Trump on the takings, or the land taken away from them to build a border wall. He said that, hypothetically, a farmworker backed by a libertarian group such as the Cato Institute can bring the case to court and fight against his land being taken away.
"That case could be a winner," Musselman said.
Later, Sloan said that the root of the idea of a national emergency is white supremacy.
"White people are feeling threatened," he said.
Other panelists discussed how people seek out leaders to make them feel secure. One speaker talked about how people in Turkey continue to vote for their president, Recep Tayyip Erdoğan, although he is known to be oppressive and abuse his power.
Musselman chimed in, saying that all of the different perspectives discussed at the panel "have an emotional impact."
"They force us to be better people," Musselman said.
Student Daye Castillo says that each panelist offered an "interesting and unique perspective."
"I didn't know the consequences [of a border wall]. It's easy to get blindsided. I know more leaving the event than I did coming into it," Castillo said.
About the Contributor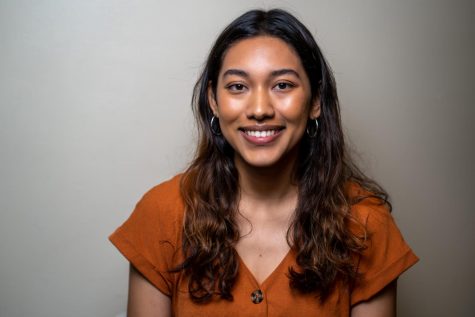 Christine Sanchez, News Editor
I'm Christine Sanchez — Writing and Rhetoric major with a concentration in Journalism and News Editor for Hilltop Views. I started reporting for Hilltop...