G.O.A.T. of the Month: Anish Sriniketh
The "G.O.A.T. of the Month" is a segment that the Hilltop Views sports section works to recognize the consistent, impactful performance of a stand-out SEU athlete during the span of a month.
Ranked 29th, the men's tennis team at St. Edward's finished with a perfect record in April as their seven game win-streak led to them being named named Heartland Conference tournament champions on April 27.
At the forefront of all the success was freshman Anish Sriniketh as he piled up several recognitions such as  being named Heartland Conference Player of Week four times this season. Sriniketh and doubles partner Chase Bartlett also took down a nationally ranked doubles duo earlier this month.
Giving much credit to his teammates and coaches, Sriniketh highlights that the smooth transition into collegiate tennis has played the biggest role in his success. Playing since the age of six, it is no surprise that the transition from junior to collegiate tennis was a gradual one.
"I think it's all the work I've put in with coach and the team. We practice every day, especially this semester. So the work on and off the court has helped so much,"said Sriniketh. "Adjusting to college tennis is a lot different from playing in junior tennis. I've never done that much conditioning and weight lifting off the court but I think that has really helped me."
Sriniketh's love for competition has led him to respond to big moments with big plays. Although he is already knocking down several nationally ranked opponents in singles and doubles play, he says he is continually looking for ways to improve. Attributing much of his veteran-like attitude to his longevity in the sport, he does acknowledge the struggles that come with high pressure moments.
"The thrill you get and the adrenaline rush you get (from competing), I still feel it after so many years. I've been playing for so many years and I feel like I've just been getting a little bit better at keeping my composure and just learning how to control yourself. I want to be the best, and in order to be the best, you have to beat the best players. So I want to keep winning for myself but for my teammates and coach as well."
Head coach Estevam Strecker describes Sriniketh as incredible player by highlighting the characteristics that make him unique. Strecker also mentions that because both he and Sriniketh are left-handed, he is able to understand both his struggles and strengths.  
"He's a phenomenal competitor. His ability to deal with very high pressure situations and thrive on it. You know what you're going to get with him. He leads by example, but he's a freshman. And his ability to want to learn, all those things, when combined, they give you a pretty good athlete."
Leave a Comment
About the Contributor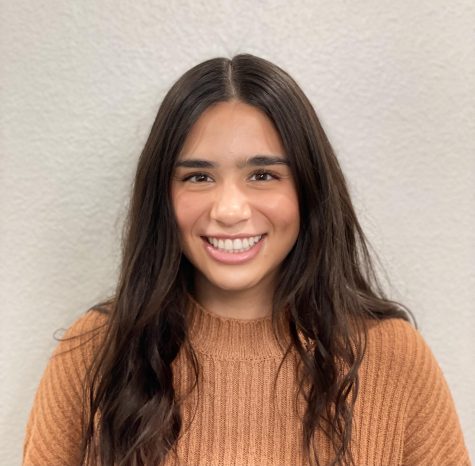 Odett Ochoa, Sports Editor
My name is Odett Ochoa, I am currently pursuing my Masters of Business Administration at SEU. I joined HV Fall of 2018 as a staff writer, and have loved...