Disappointment, regret, missed opportunities: Two senior athletes who lost their final season of college careers to the Coronavirus
As cases of COVID-19 become more numerous and widespread, life in almost 200 countries across the globe has ground to a halt. Undeniably, the absence of sport has left a void in the lives of many. And while professional sportsmen and women prepare for the resumption of seasons and rescheduled events, some college athletes are not afforded that luxury. I caught up with two St. Edward's University veterans who saw their Hilltop careers cut short amid a cloud of uncertainty and cherished memories.
Cecelia Hinz hails from San Jose, California and has competed for the St. Edward's women's cross-country team since 2016. As her and her teammates' season was curtailed, Hinz looks back at how things have played out in her final semester at college with one overwhelming emotion.
"I'm really disappointed about the season being canceled," Hinz said. "This was the first time St. Edward's has ever sponsored a women's NCAA track team and I was excited to be a part of that. I'm sad I don't get the opportunity to race with the girls I've been training with for years now."
For Hinz, this season had literally been years in the making. This time around, the coronavirus pandemic cut things short just as her team was approaching their peak. It was unfortunate timing for everyone involved.
"We were in the middle of the season, really starting to pick up our training to prepare for conference. We'd run in two meets and had four more before conference," Hinz said.
From a personal perspective, Hinz reflects on what could have been and knows she had more to give as a college athlete.
"I'm hurt I didn't get the opportunity to get to where I wanted to be. I had goals set for myself that I won't get the chance to pursue now. I was really looking forward to running at the Rice University meet in Houston because I would've had family come out and watch me compete."
This would have been a particularly special occasion for Hinz and her family. Being from California, Hinz regrets the fact that her family was never able to race at the collegiate level. Her race at Rice University would've been the first time.
"I wish I'd known my last race at Trinity University was my last race," Hinz said.
Despite an abrupt end to the college chapter of her athletic career, Hinz is confident regarding her future plans to run competitively.
"I plan to continue running and racing when I can. Running is a big stress reliever for me, as well as a time to push myself to be better. I hope to coach high school track and cross country in the near future as well."
Zac Robinson was one of the men's tennis team's headliners entering the 2020 season. Naturally, Robinson is left with a sense of regret about his final few weeks as a St. Edward's University competitor, not having known before Spring Break that he would have played his final collegiate match on court.
"At first it was really upsetting, knowing that I had played my last college match. I definitely would've approached things differently if I had been aware that the season would come to an end so abruptly," Robinson said.
On reflection, Robinson is able to see the bigger picture.
"Having been finished for over a week now, it gave me some perspective that so many other people have suffered a lot more than missing out on their last semester of college sports."
Regardless, despite having achieved just one loss from his 11 singles and doubles matches in this year's season so far, the Mildura, Australia, native is unsure as to how his final season would have ended.
"We had only just played our first conference match. Although we had beaten some highly ranked teams and achieved a good ranking, it was hard to tell how our season would turn out," Robinson said. "But I can confidently say that in my four years, this was the best team we have had. it would've been really satisfying to finish my college career on a high note and reach our team goal, which was to win a national championship."
With missed opportunities now in the past, what does the future hold for Robinson, given that he is an international student awaiting graduation in an unprecedented time of precariousness?
"I am still unsure what the rules and criteria are for the additional year of eligibility [to continue playing tennis]. As of now, I am staying in Austin and applying for my OPT visa to work in the U.S. for a year."
The stories of Hinz and Robinson mirror the feelings of many athletes who have unexpectedly had their final chance at glory taken away. Yet, there are undoubtedly bright futures ahead for stars who have shone on the Hilltop and beyond. For now, though, it is goodbye as another year of NCAA competition draws to a close.
Leave a Comment
About the Contributor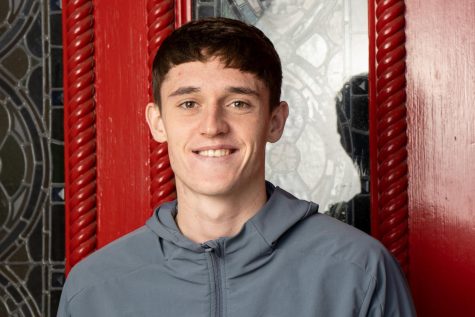 George Murray, Sports Editor
Hi! I am George Murray, one of the Sports Editors at Hilltop Views. I am an english literature major and journalism & digital media minor graduating...