Democratic candidates share ideas, perspectives at second debate
Another 10 Democrats voiced their ideas at the second Democratic debate on June 27, 2019. The candidates included Joe Biden, Bernie Sanders, Kamala Harris, Marianne Williamson, Andrew Yang, Michael Bennett, Pete Buttigieg, Kirsten Gillibrand, John Hickenlooper, and Eric Swalwell.
This second leg of candidates were posed with questions on the same issues that were discussed at the first debate just one night before they stood onstage in Miami.
Immigration
At the first debate, moderators asked candidates what they would do about immigration on the first day of their presidency. The same question was directed towards the second half of candidates on night two.
Kirsten Gillibrand called out President Trump for separating families at the border and for the deaths of seven migrant children. Gillibrand said on her first day she would pass immigration reform with a path to citizenship, provide lawyers for asylum seekers, and remove private, for-profit prisons.
Former Governor of Colorado John Hickenlooper asserted that he would work not to abolish ICE but to reform it, as well as give children at the border basic necessities beyond just shelter.
Healthcare
Author Marianne Williamson proposed lowering the cost of healthcare, which she calls sickness care, and going after big pharmaceutical companies. 
Michael Bennett said that Americans should have the option to choose between public and private health insurance. Bernie Sanders on the other hand suggested that public health care should be the only option, saying that private health care won't be necessary if Americans can visit any doctor at any hospital with public insurance.
Gun violence
Rachel Maddow asked Vermont Senator Bernie Sanders about a 2013 comment in which he said that gun laws should be decided by the states. This part of the debate quickly drew attention when Sanders said that was a "mischaracterization of [his] thinking," to which Maddow replied, "That's a quote of you." Sanders went on to explain his current stance on the issue, calling for comprehensive gun legislation and universal background checks for gun owners.
California Congressman Eric Swalwell proposed that the U.S. should implement a buy-back system on assault weapons, adding that we should value children's lives over guns, a callback to the mass shootings that have taken place in U.S. schools.
For South Bend Mayor Pete Buttigieg, the topic of gun violence hit close to home. Just this month, a black man was shot by a white police officer in Buttigieg's own city. This brought forth controversy, as many people criticized Buttigieg of not addressing racial injustice in his city, where 90 percent of the police force is white.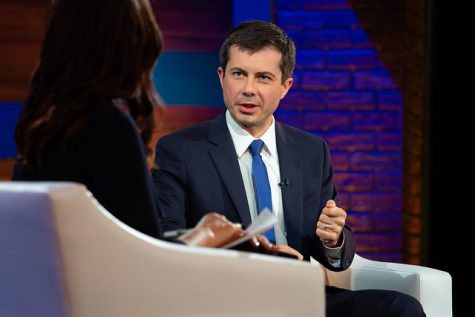 Climate change
Like Cory Booker in the first debate, California Senator Kamala Harris called climate change a "climate crisis" that should be addressed immediately.
Former Vice President Biden said that he would work to cut emissions, move to solar energy, transition to electric vehicles by the year 2030, and use technological advances to create jobs.
Former tech executive Andrew Yang had around two minutes of speaking time at the second debate, the least of all of the 10 candidates on stage. Joe Biden had the most speaking time, almost 13 minutes, while Kamala Harris came in second at 11 and a half minutes.

Loading ...
Leave a Comment