Warren rally sparks enthusiasm as 2020 campaign continues
With a little over 400 days until the 2020 presidential election, Massachusetts Sen. Elizabeth Warren hosted her 130th town hall meeting at Auditorium Shores on Sept. 10 as she continued on her campaign trail.
Over 5,000 people attended the meeting, gathering at the outdoor stage and sitting on picnic blankets nearby.
Jessica Cisneros, a Democrat running for Texas' 28th Congressional District, introduced Warren at the event.
"We need to elect democrats putting our interests first," Cisneros said. "We need those who will vote for the people, not the corporations…we are all so proud to have [her] down here."
Warren then complimented Cisneros, saying, "Here's a woman that believes that government in Texas, and government all across America, should not just work for a thin slice at the top. It ought to work for everyone. And we're gonna be here for her."
At the rally, Warren told the crowd that after losing her father to a heart attack, she picked up a job as a waitress to support her family.
"Today, a full-time minimum wage job will not keep a momma and a baby out of poverty. That is wrong and that is why I am in this fight," Warren claimed.
Advocating for the American middle class, Warren explained her three goals for the country: attacking corruption in Washington, changing the structure of the U.S. economy and protecting our democracy.
Later, in a raffle to ask Warren questions, one woman asked, "How will you create a pathway for single-moms like myself in college full time to enter politics?"
Warren replied, "Look at what happens with a 2% wealth tax. We're going to do universal child-care, universal preschool, and make sure you can go to college tuition and fee-free. And if you already have some student loans, we're going to wipe that out."
Another attendee asked, "With respect to additional tactical and strategic plans to address the increasing repetition of the climate crisis, are there other activities we need to be involved with now?"
"The day I am sworn in, I will put in place a moratorium ­— no new drilling, no new lining — offshore or on any of our federal lands," Warren said. "There is an upcoming $23 trillion market for green energy. We must spend the money to invest in science and research development."
The event featured lighthearted music while attendees sat on picnic blankets and a double rainbow filled the sky.
After the rally, the Massachusetts senator then made her way over to Houston, where she was one of the 10 Democratic candidates selected to be in on stage to debate at Texas Southern University. Warren reiterated her points on Thursday's event, hitting many of the same points she did in Austin.
Warren is currently pulling third overall in polls across the U.S. According to NPR, 75% of Democratic voters now say they have a favorable impression of Warren as a presidential candidate.
Leave a Comment
About the Writer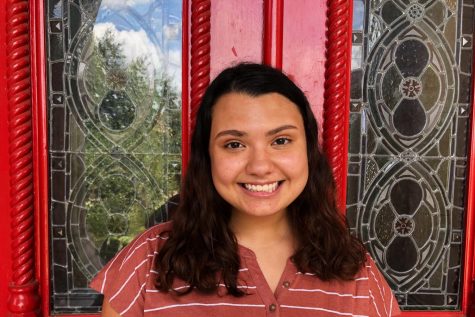 Nina Martinez, Editor-in-Chief
Hey y'all! My name is Nina Martinez, I'm a junior Writing & Rhetoric major with a concentration in Journalism. I aspire to one day edit for The Atlantic...