Kozmetsky Center facilitates discussion on global finance, international relations
On Tuesday, Sept. 17, St. Edward's University's Kozmetsky Center of Excellence in Global Finance welcomed DJ Peterson to speak to students about international affairs.
Peterson is the co-founder and president of Longview Global Advisor, a program focused on political, economic, and social trends to help mold businesses around the world. Peterson — who holds a B.A. in Area Studies and Russian, as well as an M.A. and PhD. in Political Science from UCLA — shared his knowledge and experience with students majoring in subjects like Foreign Language and International Studies. 
Peterson engaged with the crowd by asking them to describe the world right now, using specific terms. The crowd shouted out responses like "turbulent,"  "neoliberial," "complex," "polarized," "overstimulated but interconnected," and "ignorant." Of all, "neoliberal" was the term he focused on, mentioning it in his discussion on megatrends.
Megatrends are certainties of global-scale shifts which impact multiple businesses world-wide. These include slow growth, globalization, and political entrepreneurships. Slow growth is in reference to the global economy growing slower than average at 2%.
Not only is the United States underperforming, but also Mexico, Brazil, and Russia, which is causing much frustration amongst the citizens and the governments. He mentioned that around the 1970s, the growth crisis was overstimulated, which prompted citizens to push the government out. 20th century Neoliberalism, as mentioned before, is a megatrend that has been resurfacing: meaning the world is pushing for a laissez-faire economy. 
In terms of political entrepreneurship, Dr. Peterson discussed what social media has done for businesses, governments, and economies.
"Social media is social. It is not political. It is not governance making. If it shows outrage, anger, drugs or [anything] controversial, it is sexy," Peterson said.
Peterson went on to say that is something our president is very good at doing. But the real question is, "is that response," an outrageous one, "really going to help us?" No, we have to be smarter.
"We're in a very chaotic world. These megatrends are coming together. It is a supercycle and it's long. It won't go away soon, but we have to navigate it smarter." 
Peterson then opened the floor for questions. In response to his perspective on China and their growth, Peterson believes "the Chinese government is trying to reduce the capacity- coal, robotics, technology, and green. There will be different paces of innovation. It is not just a trade issue, but it is becoming more of an issue on identity. China is decadal."  
In regards to a question concerning Russia: "How do you see the protests across the southern part of Russia? What that pertains for the future? What do you see the new Ukranian president's role [as]?" 
"Vladmir Putin has been in power for 20 years. His super cycle will be ending soon. Economically, Russia is performing very poorly. Russia was a socialist country for 70 years, and this idea that everyone should benefit is trashed. He has strict control over the media; even something like the Arab Spring. Political scientists cannot predict a revolution to happen. It is a paradox — there is a cultural preference for stability and authoritarian rule."
Leave a Comment
About the Contributor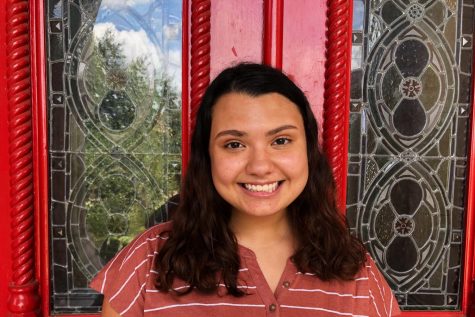 Nina Martinez, Editor-in-Chief
Hey y'all! My name is Nina Martinez, I'm a junior Writing & Rhetoric major with a concentration in Journalism. I aspire to one day edit for The Atlantic...