Open Congress provides a Texas Tribune Fest experience at no charge
From Sept. 26-28, the Texas Tribune hosted one of it's largest events of the year: The Texas Tribune Festival. While guests are required to have a $200+ day pass for the first two days, the Tribune offered Open Congress, an event open to the public, on the third day. The final day was free for those who did not have a pass, or in most college students' cases, could not afford a pass. With food trucks, book signings and live music, Open Congress packed downtown Austin with guests eager to learn more about Texas politics.
Booths lined the streets left and right. Organizations like Texas 2036 set up spots to inform guests on Texas turning 200 years old. The group MOVE Texas registered, re-registered and informed the public on voting in the upcoming elections.
Topics like immigration, the impeachment inquiry on President Trump, climate change and transportation efficiency were discussed at the festival. While the public could not sit in on the talks at the event, tents from Politico, Texas Monthly, Texas 2036 and the University of Texas at Austin streamed the talks so that anyone without a pass could listen in.
A diverse lineup of speakers included: U.S. Rep. Will Hurd, 2020 Democratic Presidential candidates Julian Castro and Amy Klobuchar; former U.S. Ambassadors to the U.N. Samantha Power and Susan Rice; Washington Post columnist George F. Will; former White House Communication Director Anthony Scaramucci; Senator Ted Cruz and Speaker of the House Nancy Pelosi.
On Saturday evening, Pelosi addressed her recent announcement of an impeachment inquiry against Trump.
"If this activity, this pattern of behavior were to prevail…then it's over for the republic," Pelosi said. "We will have the equivalent of a monarchy.''
Pelosi then repeated from her announcement last week stating, "I'm saying to the president and I'm saying to you: You've come into my wheelhouse now. I have 25 years of experience in intelligence." Pelosi then apprised her associates in front of the crowd that impeachment is a last resort and it should never be used to settle disagreements.
After sharing her insights on what's going on in the White House, nationwide policies and her faith in the Democratic party for 2020, Pelosi told Texas voters that their first priority should be their state. She urged her side to aim at re-electing representatives like Lizzie Pannil-Fletcher, D-7, Collin Allred, D-37 and Gina Ortiz Jones, D-23.
Pelosi left the audience with these words: "Let us be prayerful. Let us be solemn. Let us try not to make it further divisive. But we cannot ignore our oath of office to defend the Constitution of the United States from all enemies, foreign and domestic."
Leave a Comment
About the Writer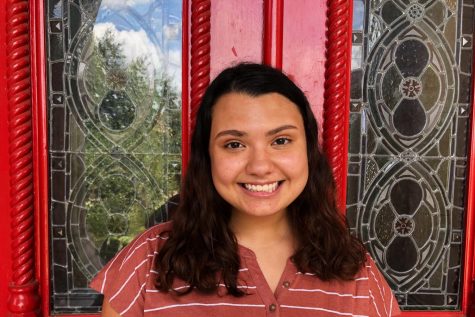 Nina Martinez, Editor-in-Chief
Hey y'all! My name is Nina Martinez, I'm a junior Writing & Rhetoric major with a concentration in Journalism. I aspire to one day edit for The Atlantic...