'Euphoria' score re-tells show's chaotic, converging storylines with sound
What do you get when you mix pulsing synth beats, pounding drums and reverberating vocals that range from countertenor to baritone? It could only be the newly released score for "Euphoria" by Labrinth.
Dubbed one of the breakout shows of the summer, "Euphoria" centers around a group of high school teens navigating things like drug addiction, abusive relationships and negative body image. Starring Zendaya, Jacob Elordi and Maude Apatow among others, audience and critics fell in love not only with the show, but with the gorgeous soundtrack that accompanies it. 
Along with a soundtrack including already released songs, showrunner Sam Levinson collaborated with Labrinth to produce a backing score that plays in every episode. Fans have been counting down the days until the score was released, and they finally got their wish this past Friday. 
Listening to the album for the first time, I instantly had flashbacks to the scenes that the songs accompanied. The repeated yells in "Nate Growing Up" reminds me of the intro from Nate's (Jacob Elordi) episode that showed his upbringing. Distorted carnival sounds featured in "Euphoria Funfair" reminisces the chaos of the fourth episode where all the characters came together for a county fair. 
While some tracks are more on the upbeat side and perfectly emulate the carefree moments from the show, others encapsulate the melancholic aspects of the series. Those that capture this feeling the most are tracks "Forever" and "Still Don't Know My Name." 
"Forever" features Labrinth's higher range as he almost gasps out the different notes. The three and a half minute song has no actual words but captures the feeling of angst to a tee with its crashing drum beats and electronic background. This is one of the more recognizable songs as it was featured heavily in the trailer. 
Notes of longing and love fill "Still Don't Know My Name," another one of the more popular tracks. What sounds like a backing chorus and some kind of electric organ backs Labrinth throughout the song. This is a perfect example of how the soundtrack mixes contemporary (electronic instrumentals) and past influences (choral sounds) to really capture what it means to be a teenager struggling through issues of identity.
Arguably the most popular and anticipated track would have to be "When I R.I.P." "Feel the morning on my face/Ain't a pill that I didn't take" croons Labrinth over wavering beats. The song encapsulates Rue's (Zendaya) journey that she takes throughout the show as she tries to keep her drug addiction under control while exploring a new relationship with Jules (Hunter Schafer).
If you've always wanted something that seems like the soundtrack to your life, with all of its highs and lows, put this album on in the background, let it seep into your brain while you patiently wait for "Euphoria" season two to come out.
About the Contributor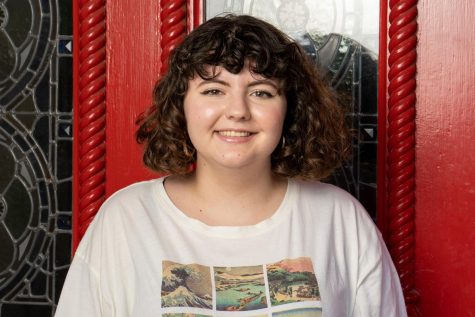 Sierra Rozen, Life and Arts Editor
Hi! My name is Sierra Rozen and I'm the Life and Arts editor. I'm a senior Communication major, with double minors in Journalism and Women's Studies. This...