Religion and controversy: Kanye West drops gospel-inspired album
A hush falls over the crowded church as Pastor West steps up to the pulpit to give his sermon. He reads, "The Gospel, according to Kanye." Welcome to the Church of Kanye West, created by the rapper's latest album, "JESUS IS KING."
While the album is exceptional, I don't know if I want a preachy Kanye after his controversial 2018 Saturday Night Live performance and rant. I can usually separate the MAGA hat-wearing Kanye from everything else he has done before and after the 2016 election. With this album, though, that's all I can see. I don't know if I want a Trump supporter preaching to me about my faith. 
"JESUS IS KING" is a magnificent sounding album with fantastic production to it. West knows how to write some great music to the beats. This album also introduces a whole new generation to gospel music, as many of the tracks feature a gospel choir in the background.
The album opens with a church choir singing "Every Hour" with no sign of West on the track. The group, Sunday Service Choir, is a West-led gospel choir that performs at his invite-only Sunday church services at his home in California. The song is an uplifting and captivating introduction to an album. 
The next two songs, "Selah" and "Follow God," take a different turn. "Selah" opens with an organ that sounds like it's playing at a funeral. It's a passionate song that includes bible verses John 8:33 and 8:36 in the lyrics. "Follow God" sounds more like your traditional West song. It's got a sample from "Whole Truth's" "Can You Lose by Following God." The song focuses on his struggle to stay devoted to his faith. 
My favorite song on the album is "Closed on Sunday." It boasts the line "Closed on Sunday / You're my Chick-Fil-A,". Its dark beat includes guitar and more of what I assume is Sunday Service Choir in the background. It's more of an ominous song that almost isolates West from everything else. 
"Water" marks the halfway point in the album. It blends soulful and funky beats to say a smooth prayer asking for forgiveness and strength. It's a song I can 100% picture being played at youth group gatherings across the country — but only if kids make room for the Holy Spirit while they sway and dance. 
West's praise and worship song "God is" sounds like something you'd  hear at your local sunday service. There is no rapping on the track, and I can't even tell if it's West singing the whole time. Either way, the vocals are perfect as all the singers belt the lyrics. The song also includes the support of Sunday Service Choir, with the strongest background vocals on the album. I can hear gospel choirs covering this song for their parishes.   
The religious and gospel-inspired album was a bold choice from West. West has  deep ties to his faith, so a whole album about it is not surprising. While I am not a fan of the subject matter of the album, I can't say that the album is terrible because of it. The lyrics and production are amazing, and it's worth a listen as a fan of the rapper.
About the Contributor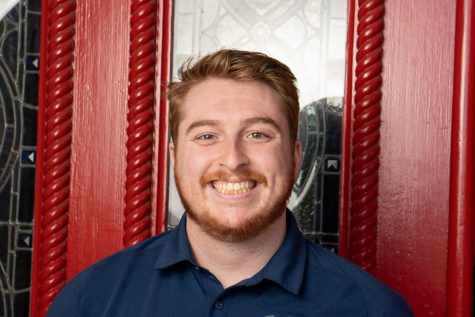 John Walker, Life and Arts Editor
MY name is John Walker, and I am one of the Life and Arts Section Editors. I'm a senior Communication major and journalism minor from Los Angeles, California....