Culture, music, empowerment: All-women mariachi band takes the Hilltop
The all-women mariachi group, Las Coronelas, graced St. Edward's University with their electric sound and style last Wednesday as part of the Jones Performing Arts Series.
The group was formed by famous singer-songwriter Vanessa del Fierro..
"It started back in 2010. I wanted to start a group that was different and unique," Fierro said. 
She had an idea of a group with different attire as opposed to the classic mariachi skirts. 
"We wanted to start something new, and what I did was I just recruited different women that I thought would fit," del Fierro added. "They auditioned and the group came about in San Antonio in 2010." .
Del Fierro was joined by Carrie Martinez, Clarissa Moreno, Sylvia Rios, Reyna Lopez and Emily Ann Mujica. 
Las Coronelas started off their show by playing a classic, "Canción Del Mariachi." The well-known mariachi song was a perfect way to start their set, as people could easily follow along.
The women-wonder group then sang a tribute to Johnny Cash, former San Antonio resident, with their own unique takes on his songs, "Orange Blossom Special" and "Ring of Fire." 
Las Coronelas are popular for their ability to perform music that isn't usually considered mariachi music. 
"With the mariachi instrumentation, the colors of the instrumentation are so full that you can do so much. You can do any type of music. You can do orchestra. You can do country," del Fierro said.
After their tribute to the country legend, Las Coronelas took their audience on a tour of time and place. They started this journey all the way in Veracruz with the song, "La Bamba," a cult classic. During their energetic performance, Lopez held a strong note for eight counts while the rest of the band counted down, making the crowd go crazy. 
With a voice this powerful, it's no doubt that Lopez has gone through lots of vocal training. 
"I do have prior vocal training. I'm actually a music major," she said "I graduated from Texas State a long time ago. But yes, we have to keep up with it. It's hard to keep up with it but I do." 
The electrifying ladies then took their audience to Spain with "La Malagueña." This performance was one of their strongest of the morning and generated a huge response from the audience. Las Coronelas had to wait for the loud round of applause to end before starting their next song, "El Rancho Grande," featuring vocals from Martinez.
The next stop on their journey was in the 1950s with a song titled "Angel Baby." This jazz phenomenon led by Mujica also got a huge response from the audience, as the song brings out nostalgia and sweet memories.
Las Coronelas then amazed the audience with an original song, "Mi Novio, Pancho Villa." The bilingual song with a fun twist on the classic mariachi instrumentals perfectly represents what Los Coronelas are all about: a fusion of two cultures.
The band actively works to combine both of their heritages to create a new and unique sound. 
"Most of the girls were born in the United States, so we have that influence of American and Mexican. Why not tie both together?" del Fierro said.
Las Coronelas then sang the songs, "Los Laureles," "Cielito Lindo," "Un Poco Loco" and "Down to Georgia." 
Before taking the audience back to where they started in Veracruz with the song "El Cascabel," they performed a stunning rendition of "Bomba." This performance completely energized the crowd and Lopez even got an audience member, Vanessa Moreno, to get up and dance with her.
Moreno, the Administrative Coordinator of Bill Munday School of Business, commented on her experience by saying, "We need to bring more events like this on campus. I think more cultural diversity is better for the campus [community]."
Las Coronelas left the audience in awe, which is one of their goals as musicians.
"We perform quite often. We mostly have a lot of private functions, but we do perform at a lot of big colleges, auditoriums, and presentations," Lopez said. 
Sometimes the group goes to elementary schools and gives presentations for the kids. 
"We had a presentation for the Helping Hands foster program," Lopez added. "It's very important to us because that's how we reach children at that age and at that stage. It's very important for them to hear what culture sounds like in our música that we love to share." 
Las Coronelas brought an explosive fusion of culture and music to St. Edward's, but the fun isn't over yet. The Jones Performing Arts Series is bringing "A Charlie Brown Christmas Live" to Jones Auditorium on Wednesday, Dec. 4.
Leave a Comment
About the Contributor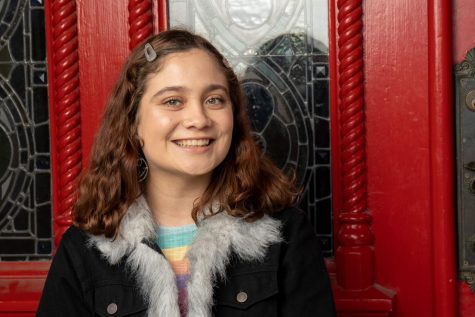 Sammy Jo Cienfuegos, Viewpoints Editor


Hey ya'll! My name is Sammy Jo Cienfuegos and I'm one of the two Viewpoints editors. I'm a senior Writing and Rhetoric major, with an emphasis in Creative...