TxDOT to clear homeless encampments in response to Gov. Abbott's latest orders
Prompted by Gov. Greg Abbott, the Texas Department of Transportation (TxDOT) handed out notices to Austin's homeless population on Oct. 29, notifying them that they must evacuate all state underpasses by Monday, Nov. 4. Cleanups began at 8 a.m. that Monday in the following locations: US 183 and Burnet Road, I-35 at Cesar Chavez St., Manchaca Road and US 290.
Abbott expressed his views on Twitter, saying that he believed allowing homeless people to camp in public areas was turning Austin into a "lawless and dangerous place." Austin Mayor Steve Adler responded to Abbott's tweet saying this plan "could be a national model and the state could be a constructive, proud partner.."
The ARCH, one of Austin's largest homeless shelters, said they are calling for reform in the sheltering process. 
"The ARCH is moving towards a 'housing first' philosophy, which means if you come into the ARCH, it's no longer: you come in, you get showered, you do your laundry and then 'good luck.' Now you get enrolled into a path towards housing as quickly as possible," said Lori Pampillo Harris, Austin's Homeless Strategy Officer. 
The first location for cleanup was along State Highway 71. There were many dumpsters and the homeless were trying to get their belongings back. TxDOT was persistent in removing furniture and trash. The homeless being pushed out, however, are struggling to find a place for shelter, whether outdoors or indoors, as most shelters are overpopulated. TxDOT was ordered to leave personal belongings, but the majority of items were thrown away.
Aside from the ARCH, other organizations are also mobilizing to help Austin's homeless population. The Other Ones, an organization that helps provide employment to the homeless, created clean-up groups to save items in the underpasses.
Sophomore Emma Sparks of St. Edward's recently completed a project in which she captured the situations and livelihood of Austin's homeless population.
"Working downtown, seeing the numbers was really shocking to me. The comparison [between] the executives working at Google and Facebook and the homeless was a shocking contrast," Sparks said. "I think the funding for affordable housing should not be coming from the city, [rather] the state, when it's the state that wants the act done."
Sparks personally reached out to the homeless population in Austin to delve deeper into this issue. 
"From what I found out talking to the homeless, they said the ARCH and the people camping out are not exactly the best to be around," she said. "If you're in a family or have a pet you can't stay there. The shelters aren't even safe."
On Thursday, Nov. 7, after much debate with Austin officials on how Abbott has handled this call to action, Abbott announced there will be a temporary homeless campsite on state land. According to Fox News, "the 5-acre camp will be located 3 miles outside Austin and will have portable restrooms, hand washing stations and food provided by local charities throughout the day."
Abbott's push for removing the homeless population from public areas is in response to the ordinance passed in July stating that the homeless could camp on streets, agreeing they would not harm others or themselves.
Leave a Comment
About the Contributor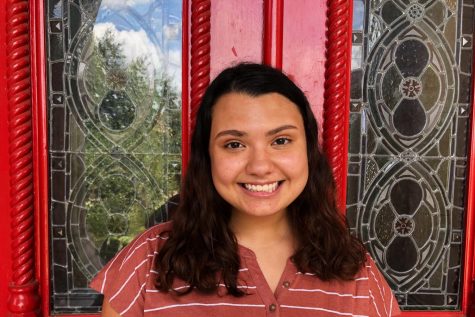 Nina Martinez, Editor-in-Chief
Hey y'all! My name is Nina Martinez, I'm a junior Writing & Rhetoric major with a concentration in Journalism. I aspire to one day edit for The Atlantic...