CEL speaker stresses international focus in university programs, culture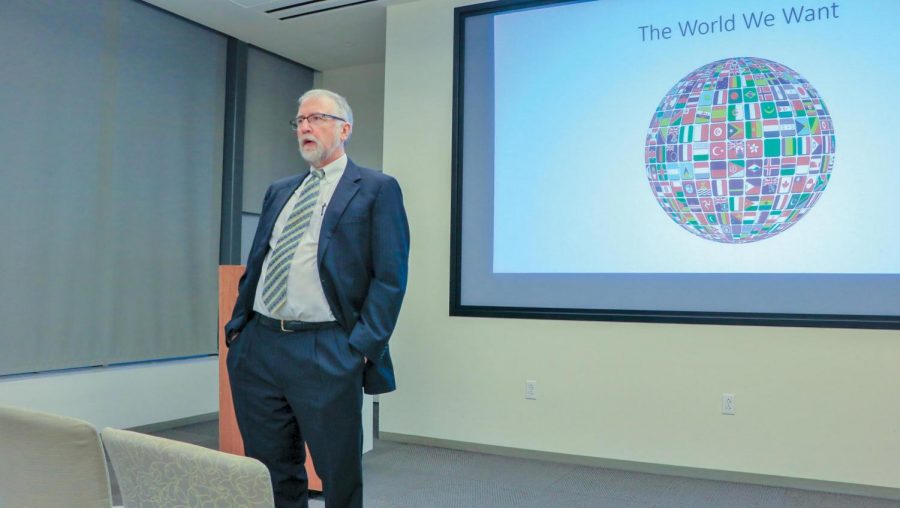 On Nov. 6, the Center for Ethics and Leadership (CEL) invited the Paul Allen Miller, Ph.D., Vice Provost and Director of International Affairs at the University of South Carolina, to give a presentation to the St. Edward's student body and Austin community about the importance of maintaining an international focus in higher education programming and culture.
At the start of the 21st century and with the rise of globalization, many universities began embracing the idea of global citizens and developing globally-minded students. However, current political movements both within and outside the United States have challenged the necessity of internationalization. This prompted Allen to speak out about both the practical and moral obligations universities have to continue encouraging students to embrace an international mindset.
From a practical viewpoint, the idea of a national economy and nationally-focused political agenda simply isn't compatible with the way the world is structured today. Allen used examples of how smog in Beijing, China can cause respiratory problems all the way in Seoul, South Korea, or how with the ease of international shipping and travel, the US government can quarantine a patient suspected of carrying ebola in Dallas after they traveled to West Africa. 
Realistically, no government can no longer "go it alone" and that's nothing to say of the perceived moral obligations there are to embrace internationalization. "Universities exist, since their founding in the 12th century, not just to train workers, but to create responsible citizens," Allen said. "They must be moral beings able to think, reflect and act on their own in this international context."
In order to achieve this, Allen outlined several steps that universities should take in order to become more globally-minded. The first step is to encourage more language programming and to create an environment where multiple languages are allowed to thrive on campus. The second is to push for more diversity in campus faculty, not only racially, but religiously and culturally. The third is to encourage students to study abroad whenever possible and to create scholarships to support students that can't afford study abroad opportunities.
Allen discussed his university's creation of the international Living Learning Community (similar to the ones here on St. Edward's). 
"We have a place called Maxcy [a dormitory at the University of South Carolina] and it is 50% international and 50% domestic students," Allen said. "You live and work with your international and domestic students and there is a separate annex for people who want to do total immersion with the languages." 
Among the attendees of the presentation was St. Edward's associate professor of journalism and digital media, Professor Jena Heath. 
Heath was motivated to attend due to her research work and collaboration with colleagues from China. While Heath thinks that St. Edward's is doing the best that it can to live up to its motto, "Take on your world," she said, "We need a more global and international campus."