Rodney Reed execution set 20 years ago delayed due to new evidence
As of 1983, 565 people have been executed in the State of Texas. Rodney Reed was set to be number 566, until his execution was delayed only five days before the scheduled date.
Reed was set to be executed on Wednesday Nov. 20 after being on death row for over 20 years. However, on Nov. 15, Gov. Greg Abbott announced he would delay Reed's execution for 120 days.
The Original Case
Reed was sentenced to death row for the rape and murder of 19-year-old Stacey Stites in Bastrop. His arrest at the time was based on DNA results found on and in Stites' body.
Although Stites was engaged to Jimmy Fennell, a local police officer at the time, Reed has maintained that he and Stites were having a consensual affair, explaining the DNA found in her body. 
Fennell was recently mentioned in three testimonies that provide evidence in Reed's favor that he is innocent.
New Evidence Brought to the Table
In 2008, Fennell was found guilty of kidnapping and raping a woman while on duty as a police officer in Giddings, Texas.
According to the New York Times, "a man who served time in prison (Arthur J. Snow Jr.) with Mr. Fennell said in a sworn affidavit last month that he had heard Mr. Fennell confess to killing Ms. Stites because she had cheated on him with a black man."
Though Fennell was originally the prime suspect of the Stacy Stites case, after Reed's sperm was found inside Stites' body, the court found Reed guilty.
Other testimonies about Fennell have recently been brought to light as well. For example, Jim Clampit, the former sheriff's deputy in Bastrop, came forward saying he had heard Fennell at Stites' funeral say "You got what you deserved."
Due to this information, the execution has been pushed back even further. Throughout the past 20 years, however, there have yet to be any DNA tests run on the murder weapon – Ms. Stites' belt. Many believe it is now time to run those tests.
The Innocence Project 
One of Reed's lawyers, Bryce Benjet said, "At every turn we have asked for a hearing at which we can present the evidence, in full, of Rodney Reed's innocence."
Benjet is a senior staff attorney at the organization known as The Innocence Project. Founded in 1992 in New York City, the non-profit "exonerates the wrongly convicted through DNA testing and reforms the criminal justice system to prevent future injustice," says innocenceproject.org. 
The website provides multiple articles and petitions to remove Reed from death row and set him free, as well as "10 Facts About Rodney Reed's Case That You Need to Know," all in favor of proving Reed innocent. 
With the delay of Reed's execution, Reed and his lawyers now have a chance to use this evidence in hopes of ruling him innocent.
Support For Reed Grows
While still being on death row after 20 years is itself rare enough, Reed also gained the support of many Republicans who are against the death penalty. This includes Senator Ted Cruz and Texas State Rep. Matt Krause. "Having spent yrs in law enforcement," Cruz tweeted earlier on Nov. 8, " I believe capital punishment can be justice for the very worst murderers, but if there is credible evidence there's a real chance the defendant is innocent, that evidence should be weighed carefully."
Mr. Reed also has many celebrities' support, such as Kim Kardashian West, Rihanna and Meek Mill, who all used their platforms and influence to urge Abbott to stop the execution before it was delayed.
New Judge Assigned Execution Case
The Texas Court of Criminal Appeals, the highest court in Texas, cancelled Reed's execution trial. As of Nov. 22 Reed's execution case was assigned to a local judge in Bastrop, District Court Judge J.D. Langley. 
Over the next 120 days, investigators and lawyers will be determining if the piece of evidence from this late 90's murder was in possession of Reed or Fennell.
View Comments (3)
About the Contributor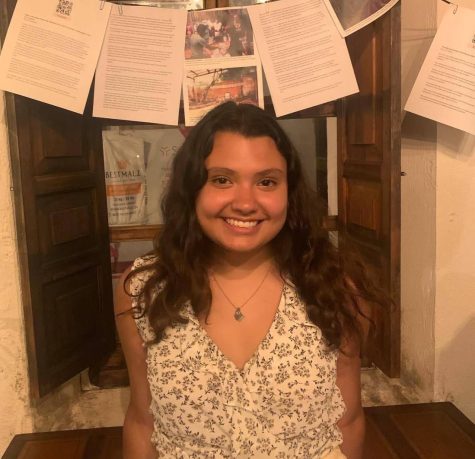 Nina Martinez, Copy Editor
Nina Martinez is a senior at St. Edward's University, earning her Bachelor's in Writing and Rhetoric. Martinez has reported and edited for Hilltop...