Coldplay's eighth studio album demonstrates band's ability to adapt, reflect
It's been four years since we last heard from Coldplay, and there's a reason for that. Since 2015 and "A Head Full of Dreams," their tune has changed, both literally and metaphorically. The popular band's new double album, "Everyday Life," provides a refreshing take on exactly that: a display of adaptability well worth the wait. 
The album's wide-ranging analysis of the world in 2019 is its most impressive quality, particularly set against the giddy, kaleidoscopic joy of "A Head Full of Dreams," which now seems so long ago. 
Coldplay's eighth album is split into two LPs, "Sunrise" and "Sunset," (and grapples with hard-hitting themes such as racism, love, war, climate change, gun control and police brutality in a thoughtful manner. 
From the start of the double-album, an openness to religion is established through a church theme. "Church" is the album's second song, an upbeat, celebratory number shortly followed by "BrokEn," a gospel-backed tune full of vibrance. The folk-sounding "WOTW/POTP" is in a similar mold, a shorter tune which bounces along, set to guitar with a clear message. Lead singer Chris Martin preaches of a "world gone wrong" in which he "shall be strong…my faith is strong."
The release of "Everyday Life" on Apple Music was accompanied by an exclusive featured interview with each of the band members. The interview breaks down the pair of LPs track by track, providing insight from those behind its creation.
Martin, front man and long-time figurehead of the group, says the album's third song "Trouble in Town," "came from living in America and just feeling a lot of the energies going on and learning about things like the 13th Amendment." This song is a particularly uneasy experience as Martin pulls no punches with lines such as "they hung my brother brown" and "I get no peace, and I just get more police."  
These energies are, of course, not always positive, and Martin hints at the lessons he and his companions have learned from living in America. Where the first half of the album is a fluid mix of melancholy and hopefulness about contemporary problems we face, the second is more of a suggestion for how to go about fixing these problems.
To open up the album's "Sunset" is the suitably titled "Guns," a tongue-in-cheek analysis of gun control in the country Martin now resides in, characterized by its simplicity: a collection of Martin's lyricism, acoustic guitar and a keyboard.
"Guns is probably the rawest sounding song on the album," guitarist Johnny Buckland says. "It's definitely the rawest sounding song that we've probably ever made, I think."
 However, the album's lead single is ironically characteristic of "Everyday Life's" predecessor, with a singalong vibe considered classic Coldplay. "Orphans" once again places hope in the problematic landscape of 2019, this time within the backdrop of an orphanage brought about by the Syrian civil war.
 Above all else, Coldplay's new release emphasizes one thing: they are versatile, pensive musicians who set out to return with a point proven. The London-formed group has done just that, without a rush of blood to the head.
Leave a Comment
About the Contributor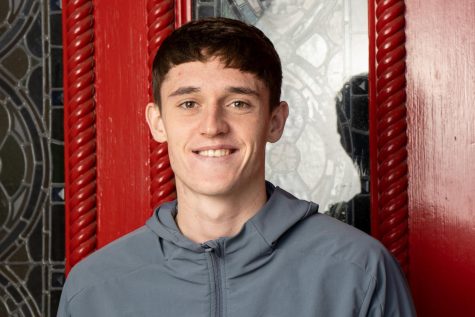 George Murray, Sports Editor
Hi! I am George Murray, one of the Sports Editors at Hilltop Views. I am an english literature major and journalism & digital media minor graduating...