St. Edward's gets history lesson on Austin craft brewing industry at Hillhops event
Are you into pilsners or lagers, light or dark, clean and crisp or sour and funky? Well, every type of beer from all over Texas was at the Munday Library on Jan 29 to celebrate Texas Craft Brew. The Munday Library hosted Hillhops to commemorate the Texas Craft Brewing collection in the library archives.
"We started an archive a couple of years ago to preserve this history. Because so many breweries come and go and we want in 50 years what [is] happening now," Travis Williams, archivist and event coordinator of Hillhops said.
Thirteen breweries that represented various parts of Texas came to the Hilltop to sample beer and promote their brand. Some of the more recognizable names were Friends and Allies and Zilker Brewing, which boast SEU alumni as their owners. Others in attendance were Austin Beer Garden Brewing (ABGB), St. Elmo, Real Ale and Nomadic.
Texas craft brew history didn't really get started until the early 90s when the laws were changed to allow craft brewing in Austin. The law allowed Steve Anderson to open Waterloo Brewing, one of the first craft breweries in the state of Texas. Currently, there are 14 different breweries in Austin that are represented in the library's collection.
While the beer tasting was a highlight of the event, so was the panel of SEU alumni, "Rhythm and Brews: The Austin Beer Experience." The panel was a discussion of Austin brewing history and what's going on in the craft brewing scene in Austin and in Texas as a whole.
Patrick Clark, SEU alum and co-founder of Zilker Brewing, spoke of the instrumental work of fellow panelist Caroline Wallace of the Texas Craft Brewers Guild. One of the biggest pieces of legislation to come out in recent years was the lifted ban on selling beer to-go.
"It's been a huge thing for us in the past six months. Just being able to sell beer to-go should be pretty common and a right, essentially," Clark said. "It's been another really good source of revenue for us and a good way for us to get beers that you can only get in a taproom so people can take home and share with others."
Some other legislative victories for craft breweries that happened this session are out-of-county storage that allows a self-distributor to have a cold storage warehouse outside of their county and lifting the distinction between beer and ale.
"That bill took us from probably some of the strictest alcohol laws in the country to like middle of the pack," Wallace said. "There are multiple really good aspects of that bill for our industry that actually take effect over the next two years, so it feels really good to say what's next are things that actually have passed."
The biggest part of a craft brewery's identity is the local giving that they do. Many Austin craft breweries give to local charities to give back to the community.
"I think breweries have become a place for everyone. Which I think is unique. It enhances the overall community feel," Clark said.
"I can't think of a single brewery that doesn't have 25 charities that they are focused on," Ben Sabin, owner of Friends and Allies and St. Edward's alumni said. "Any brewery is the pinnacle of their local community. Everyone meets locally so we may as well give locally."
As the Texas craft brewing industry grows, so does the collection.
Leave a Comment
About the Contributor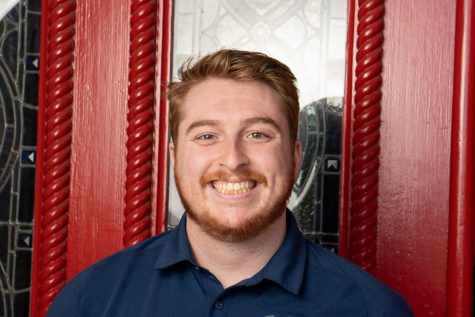 John Walker, Life and Arts Editor
MY name is John Walker, and I am one of the Life and Arts Section Editors. I'm a senior Communication major and journalism minor from Los Angeles, California....