New clinic gives Austin community low-cost mental health care
In an attempt to provide a combination of high-quality mental healthcare at an affordable price, St. Edward's has opened a new clinic to the Austin community. The Community Counseling Clinic opened last month and gives the opportunity for graduate students to hold counseling sessions as part of an internship, providing valuable service to those in the local area.
The center, located in East Hall, opened eight years ago. Its new clinic, however, hopes to serve Austinites and bridge the existing gap for those who have lesser resources and trouble affording such care. Crucially, the clinic is exclusive to non-students and faculty, given that St. Edward's already provides services via the Health & Counseling Center to its members.
Four student interns —  all of whom are graduate students of the Masters of Arts in Counseling program at St. Edward's — will accept patients as part of their training to be licensed professional counselors. Karey Scheyd is one of these students. She is in her first semester of internship following the practicum stage.
"This a service to the larger community … mental health counseling can be very costly, especially for those who are uninsured," Scheyd said. "Our client market is meant to reach the community at large, not just the St. Edward's community."
Scheyd works at the clinic in addition to her primary sight at Hospice Austin where she offers services via grief counseling in bereavement service. Each of the trainee students took their first clients in recent weeks.
Four counseling rooms are featured in the center in which all sessions are recorded by fitted cameras. There is also a family room for couples and individual clients as well as a command center and kitchen.
Dr. Kerrie Taylor is Assistant Professor of Counseling at St. Edward's and serves as the clinic's coordinator. Taylor shared that her favorite room is the play area, for children aged four to 12.
"Everything in here is very intentionally chosen to be therapeutic mediums for children," Taylor said.
Taylor explained that while it is starting slow and getting the appropriate processes and policies in place, the clinic is looking to expand this summer. So has the clinic been a success so far?
"I absolutely think it has been successful … the leadership has done an extraordinary job to open the clinic as soon as possible," Scheyd said.
The clinic's coordinator is equally optimistic.
"The need is so high … this is my third clinic now and I've never experienced this kind of flooding of people wanting services and such an overwhelming response," Taylor said.
The clinic is currently only open one day a week, on Wednesdays from noon to 8 p.m. Sessions cost $15 for individuals and $20 for couples and families, although the clinic stresses that if necessary, clients can name their price to avoid being turned away for inability to pay. Seemingly, there are no limits to the aims of those involved with the new initiative, which took only two days to be booked with new clients and now has a waitlist of around 100 people.
As Scheyd said, "We can dream big here if we have the resources."
Leave a Comment
About the Contributor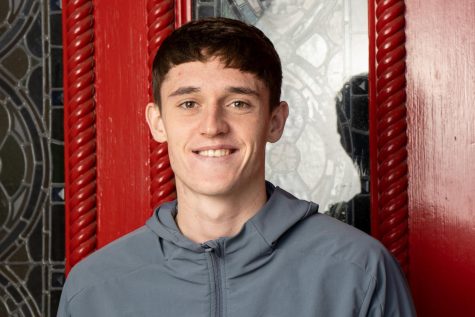 George Murray, Sports Editor
Hi! I am George Murray, one of the Sports Editors at Hilltop Views. I am an english literature major and journalism & digital media minor graduating...