Austin Chronicle Pet Issue Party offers luxuries, low-cost services for your furry friends
Dachshunds in costumes, pitbulls with chains and golden retrievers showing their Texas pride — The Austin Chronicle Pet Issue Party had it all. With the pet issue published last week, the paper hosted their annual party located at Still Austin Co.. Austinites were encouraged to have a drink and bring their furry friend. Ten percent of all drink sales were donated to Emancipet, a nonprofit pet company.
Greeted by Hank, the friendly daschund, pets arrived in festive attire and enjoyed each other's company on the outdoor patio. 
Present at the issue party were six companies and organizations offering their services and free pet-themed goodies.
Taurus Academy, a boarding, training daycare and grooming company, is located at six locations across the greater Austin area. Bring your pet to Taurus Bark & Zoom off the Cardinal Loop or Taurus off Lamar. Services are also provided in the Metric-Austin area, McNeil, Lake Travis and Burnet.
"All of our locations offer in-home training or in our facilities," said Angela Aguirre, one of the "Pack Members" at Taurus Metric.
Also present was KollarKouture, a company started by Barbara Rice and her dog Dazee Dukes. She sells her handmade Boneties, Bowdanas, Bandanas and other fashionable accessories through her company's website.
Another luxurious option available for you and your pet is The Pet Gal. From monthly walk packages to pet sitting and overnight sits, The Pet Gal does it all. Not only do they do the bare necessities, but they also offer the Pet Taxi, a service that picks up and returns your pets, transporting them from daycare, boarding, grooming and veterinary appointments. And if all you really want at the end of the day is for your furry friend to be present on your special day, you can hire The Pet Gals' Wedding Pet Attendant to prepare your real true love to walk down the aisle with you.
Brianna Grieble, a volunteer with Friends of Austin – Animal Center, shared that the goal of this nonprofit is to keep pets in homes and help with pets in shelters. Friends of Austin, an arm of the Austin Animal Center, was formed in 2006 due to the limitations from city shelters.
"We can be the help the shelter needs," Grieble said. "We do fundraising all over because we are the largest no-kill city in the nation and we need those programs to keep dogs from being euthanized."
You can stay up-to-date with Friends of Austin and their work around the city by following their Instagram, @friendsofaac. 
The final non-profit represented at the party was Emancipet, a "low cost, nonprofit veterinary care." With roots here in Austin and locations in Houston and Philadelphia, "the company offers affordable dental check-ups, vaccines, and spay and neuter appointments," shared Matt Smith, an Emancipet employee. 
They provide a simple four-step plan to requesting an appointment, offered on their website.
Read the Austin Chronicle's pet issue here to find stories filled with sloths, spiders, ponies, kittens, rabbits and dogs!
Leave a Comment
About the Contributor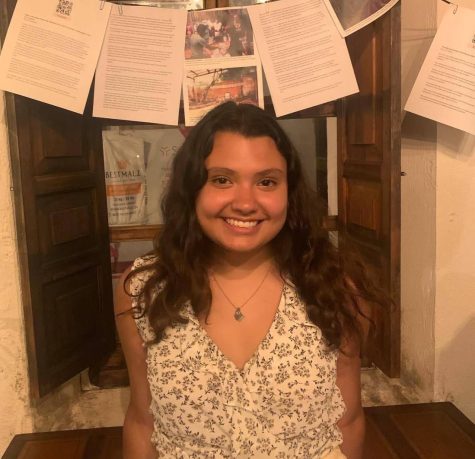 Nina Martinez, Copy Editor
Nina Martinez is a senior at St. Edward's University, earning her Bachelor's in Writing and Rhetoric. Martinez has reported and edited for Hilltop...