Mt. Joy rocks fanbase with singles in anticipation of sophomore album
Indie alternative rock with a hint of funk, catchy lyrics and rhythms perfect for swaying from side to side: Mt. Joy released two new singles as they announced the release date of their sophomore album, "Rearrange Us."
Mt. Joy entered the scene in 2016 with their first single, "Astrovan." In 2018, they released their first self-titled album, "Mt.Joy." Now, two years later, their second studio album is out on June 5. Until then, fans have quickly taken to the two songs that the band released last week.
"Let Loose"
"Let Loose" is a mellow love song perfect to share with your significant other as you sit in the comfort of each other's arms. Lyrics like "I wanna get lost, I wanna get loud with you/When I get low, I wanna get high with you," invoke nostalgic feelings for a loved one. Its guitar and keyboard melodies transport you back in time.
It's a song that you rock back and forth with until the song picks up at the end and has you let loose and dance. A vocalless jam session at the end makes for the perfect end-of-a-rom-com where the guy gets the girl, and they all live happily ever after.
"Let Loose" is the perfect date night song and a must-add to your "songs that make you think of her" playlist.
"Strangers"
If "Let Loose" is for couples, "Strangers" is for breakups. It's a powerful song about getting over the loss of someone close to you. The song is fit for a transformative post-break-up road trip adventure, like running around New York City trying to find your next lover after getting over your ex. Moving on and finding love after falling out of love is the theme as frontman Matt Quinn sings, "And I did not want our love to be erased/But Lord knows we chased it, love just rearranged us."
It's a track to meet that special someone in a random place, like the person standing next to you at the concert (as if Ticketmaster magically knew you two would click).
Until the album is released in June, fans of the band are sure to be rocking out to these singles. Whether it's a night in with your significant other or the anthem of your next breakup, Mt. Joy's newest singles are the go-to for your indie alternative rock needs. They are currently on tour on and off with The Lumineers after coming off their own headlining tour this past fall.
About the Writer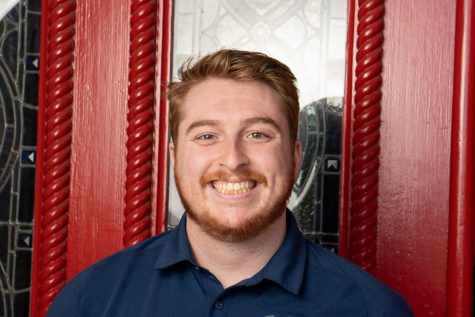 John Walker, Life and Arts Editor
MY name is John Walker, and I am one of the Life and Arts Section Editors. I'm a senior Communication major and journalism minor from Los Angeles, California....