Texas candidates for March primaries: what to know before national elections
On Mar. 3, Texas Democrats and Republicans will participate in the presidential primaries, as well as other elections for Travis County. Early voting began Feb. 18 and wrapped up on the 28th of the month. 
What are the Primaries?
The Texas primaries are the elections held before the general elections on Nov. 3. Voters must choose which party ballot, pledging to vote for only that party's primaries or conventions. Voting in either the Democratic or Republican ballot does not disable you from voting for a different party come Nov. 3. Minor parties, which are the Libertarian, Green, and Constitution parties do not have primaries and candidates are not chosen until the county and state conventions. 
If required, March 26 will host the primary runoff elections. Primary runoffs consist of two- rounds and are used to elect one winner. Two candidates will advance from the first to second round and only one will win. Local elections will host runoffs, if required, sometime in June and general and special elections will be held in December.
Who are the Texas Democrats running against Ted Cruz and John Cornyn?
There are 11 democrats trying to dethrone Texas Senators, incumbents Ted Cruz and John Cornyn. The top five candidates of the race are attorneys Chris Bell, Amanda Edwards, and Royce West. Retired Air Force Vet and Purple Heart Recipient is MJ Hegar who raised $3.2M last year from the Round Rock area and her opponent Cristina Tzintzún Ramirez, an activist and co-founder of two progressive groups for middle-class workers. The Texas Senate Election will also take place on Nov. 3. 
What district am I in?
St. Edward's students and surrounding residents vote District 21 for U.S. Representative.
In District 21, where St. Edward's students and surrounding residents fall, voters can vote for the following U.S. Representatives:
Wendy Davis (D), who prioritizes education funding, safety, and affordable prescription drugs, is running against Jeanie Lou Leeder (D), incumbent Chip Roy (R), Arthur DiBianca (L). Leeder is strong on pro-choice rights and supports single-payer universal healthcare for all. 
Running for his second year is Roy, who voted against impeaching President Donald Trump and work for and alongside Ted Cruz and Rick Perry. Running for the Libertarian Party is DiBianca who ran in 2012 and 2104 and lost. DiBianca promotes cutting taxes and spending, ending the drug war, and fairly representing Latinos. 
What is the TRC?
The TRC, or the Texas Railroad Commissioner, is the agency that regulates oil and gas companies, utilities and all safeties within the area. There are currently three RRCs for Texas, Christi Craddick (2012), Ryan Sitton (2015), and Wayne Christian (2017). The commissioner who serves reelection is typically the chairman from the past two years. Ryan Sitton is re-running this year, along with one other Republican James Wright. Against those candidates are Democrats Roberto R. Alonzo, Chrysra Castaneda, Kelly Stone, and Mark Watson. 
How do you vote for a judge and what positions are there?
The American Bar Association suggests voters should vote for judges who uphold the rule of law, are independent and impartial, possess appropriate temperament, character, capabilities and credentials. These candidates should also obtain confidence from the public, is diverse and reflects the society to which they are appointed. The primary elections asks voters to choose a Chief Justice and Justice for the Texas Supreme Court, and a judge for the Texas Court of Criminal Appeals. 
Happy Super Tuesday! Voting starts at 7am to 7pm, so get on out there to vote!
Leave a Comment
About the Contributor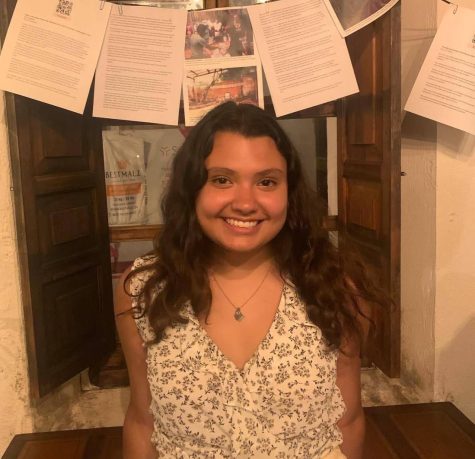 Nina Martinez, Copy Editor
Nina Martinez is a senior at St. Edward's University, earning her Bachelor's in Writing and Rhetoric. Martinez has reported and edited for Hilltop...