10 years later, 'I'm New Here' paints reflection of life lessons well learned
Great art is often made at the precipice of oblivion. Perhaps it is the wisdom gained from a long-lived life or maybe it is the knowledge that soon you will not be able to say anything at all; that this last statement has to sustain itself for generations to come. 
Some of the best albums of the 2010s were from aged cultural icons on their deathbeds. David Bowie's "Blackstar" extolled his musings about his imminent death, and Leonard Cohen's "You Want it Darker" included his acceptance of his fate and his frustrations with God's indifference. However, Gil Scott Heron's 2010 album "I'm New Here" signals the chance for rebirth even when a person inhabits their final days.
Often regarded as one of the grandfathers of hip-hop, Heron began his career in the early 1970s with spoken word poetry, penning the iconic "The Revolution Will Not Be Televised." He had a stable career throughout the '70s and '80s, but the 2000s saw him fall on hard times. 
Heron faced drug addiction and legal troubles as a result of his habits. He was in and out of jail, and his health started to fail, culminating in a public confirmation that he was HIV positive. But near the end of the decade Heron began to get sober. "I'm New Here" is both a product of this unfortunate decade and his entire life and career. 
One of the central themes of the album is every person's potential for redemption. Heron sings about this on a personal level as well as an imperative for his audience. On the title track he sings, "No matter how far gone you've gone / You can always turn around." Heron sounds like he is quietly reassuring himself that he is worthy of redemption. 
The whole record contains a similarly intimate feel. The songs sound like Heron is speaking directly to listeners in a dimly lit room, and the interludes place listeners directly into the recording studio with Heron himself. However, it seems the album, in Heron's eyes, is not intended to be listened to by anyone but himself. "I'm New Here" seems like Heron's proof to himself of the life he lived. 
The album is bookended by "On Coming From A Broken Home (pt.1 and pt. 2)," which details Heron's life growing up. Heron talks about his home life on "Home is Where the Hatred is" on his 1970 album "Pieces of a Man," but on "I'm New Here," his recounting is not emotional; it listens like an archivist completing his lifelong collection of memories. 
Heron displays an acceptance of his fate and looming death throughout the album. In "Me And The Devil" Heron explains, "When you knocked upon my door / And I say: hello satan / I believe, it's time to go." It is the contradiction of both the ability to change as a person and an acceptance of one's fate that pushes the album forward. 
As a complete listen, "I'm New Here" documents a man's final philosophical musings about a life already lived. It is the rantings of a man having his last lonely cigarette, and much like on the album cover, he is savoring every last bit.
About the Contributor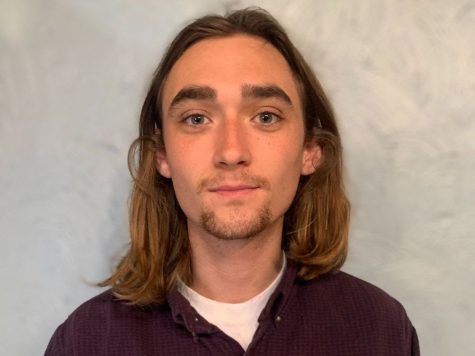 Ben Cardillo, Viewpoints Editor
Hi! I'm Ben Cardillo, I will be graduating this May with a major in Writing and Rhetoric and a minor in Photography. I grew up in Tampa, FL (go Bucs),...