'Tickets To My Downfall' marks genre change from hip hop to pop punk
Machine Gun Kelly may be known for his hip-hop style of music, but his fifth studio album, "Tickets To My Downfall," gives listeners a new pop-rock sound. His new sound may remind some fans of the early 2000s emo punk rock genre. With guitar riffs and heavy drum beats produced by blink-182 drummer Travis Barker, a coming-of-age theme reflects throughout the 15 song tracklist. 
MGK first appeared on the music scene as an unapologetic hip hop artist with his debut album "Lace-Up." He continued his rap lyrical style with album "Hotel Diablo." He had previously hinted he was looking to shake things up, but fans are likely to be shocked by the pop-punk genre when they hear the album for the first time. To MGK, this style of music is nothing new to him. 
"I make a pop-rock record…. and everyone's like, 'you switched genres!' To me, I just added on to the multiple things I've already done anyway, but sure, what a narrow-minded way to look at things," MGK said in a recent interview.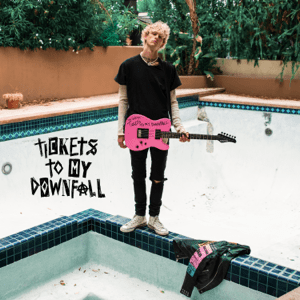 The first single released off the album is "bloody valentine," an introduction to his new sound that holds onto the authenticity fans recognize him for. MGK's new sound still carries on the theme of his broken past, insecurities and complicated feelings about love. 
"concert for aliens" has a hard-edge style. A fast tempo with overpowering drum beats and electric guitar riffs translate the reason why MGK feels his life is like a roller coaster. The first verse of the song hints that his way of living in the moment and not thinking about the future caused his abrupt downfall. 
With the chorus, "'SOS / I'm calling out / SOS / I'm falling now,"' he feels that he has messed up his own life with immature decisions. 
MGK doesn't shy away from talking about his past drug usage. Songs like "drunk faced" hold verses like "If I were a painter / I'd be a depressionist," with lyrics that don't match the sanguine drum beat. This record has infectious, upbeat melodies that will have you singing along.
He also writes about his immaturity, blissful or painful love experiences and even dedicates "play this when i'm gone" to his daughter. In this track, he gets personal and slows down the tempo with an acoustic guitar backing a smooth, uplifting trap beat. 
The whole album, confessional and unflinching, is an open diary of honesty and vulnerability. "Tickets To My Downfall" is different from any other MGK album, but it's worth listening to.
View Comments(1)