A southwest reservation struggles to combat COVID-19 as they still lack access to water
When most Americans flush the toilet or unwind in a warm shower, they don't give a second thought to where their water is coming from, how they afford it or if it's safe. However, according to the non-profit DIGDEEP, about 2.2 million Americans live without running water. 
DIGDEEP is a nonprofit helping Americans access a basic human right: clean water. When they think of a water crisis, most Americans think of Flint, Mich., where the switch from the Detroit Water and Sewerage Department to the Flint River for water exposed thousands to dangerous levels of lead, killing 12.  What they don't realize is that no matter where they live, their own neighbor could be living without taps or plumbing, as this water crisis stretches across all 50 states. 
A community that often goes unrecognized is the Navajo Nation. The Navajo Nation  Indian Reservation stretches across parts of Arizona, New Mexico and Utah. DIGDEEP's Navajo Water Project has been tackling this crisis with long-term sustainable installations. However, with COVID-19 impacting the community, the Navajo Water Project had to change how they help.
Susan Murcott, water-crisis expert, engineer and professor at Massachusetts Institute of Technology explained the history of water crises across the country.
"US citizens have faced water shortages [dating] back to 1,000 AD. Water shortages led to the dissolution of those [native] cultures," Murcott, who focuses on wastewater innovations globally, said. "It's not big numbers of people who don't have access. 2.5 billion people in the world don't have safe water access and 60% of the world lack basic sanitation," Murcott said.
The first recommendation Americans hear for combating COVID-19 is to wash their hands. But for the Navajo, washing their hands is not an option. 
"Water is the first form of PPE," Director of the Navajo Water Project Emma Robbins said. For Navajo families, it's very difficult to stay safe during the pandemic, as 30% have to haul water home. 
The Navajo Water Project's solution to this daunting problem: distribute and assist.
"We've purchased and installed 275-gallon drinking water tanks in homes and have shifted from long-term projects to relief work," Robbins said. "We've also partnered with Nestlé Waters on an emergency basis to distribute bottled water to 30,000 people in Navajo Nation. Aside from this, we also have options for donors to sponsor a home water system." 
For $3,100 a family can receive running water. Since it takes power to run water, sponsors can donate $1,400 for a solar power system. For $4,500 a family can receive both running water and solar power. However, installing these systems requires a 24-hour process where engineers come out to the family's home. COVID-19 has stopped the Navajo Water Project from getting close to residents, so the safest solutions are the above-ground water options.
For non-profits like DIGDEEP, maintaining donations can be difficult. "Luckily, funding has not been affected," Robbins said. The Navajo Water Project has seen a steady flow of donations during the pandemic and even closer ties with other teams.
According to the Navajo Nation COVID-19 dashboard, 36,252 cases have returned positive with 28,325 confirmed cases. This means over 10% of the Navajo Nation Reservation population had coronavirus. Meanwhile, 1,018 Navajo Nation residents have died from the virus. The dashboard also shows that 51% of female residents and 49% of male residents over 80 have died of COVID-19. The nation's government implemented an additional weekend lockdown as their ICUs reached capacity. With statistics like this, most would seem hopeless, but the Navajo Water Project sees things looking up. 
"The silver lining of Covid is working with more federal and tribal governments. Not only are we being consensual, but collaborative [as we] work with local governments and other non-profits," Robbins said. 
To donate to the Navajo Water Project, click here. 
Leave a Comment
About the Contributor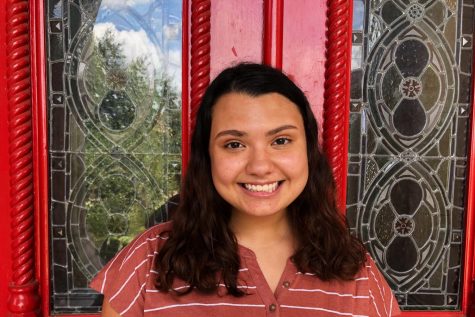 Nina Martinez, Editor-in-Chief
Hey y'all! My name is Nina Martinez, I'm a junior Writing & Rhetoric major with a concentration in Journalism. I aspire to one day edit for The Atlantic...