Harry Styles presents Love On Tour, COVID-19 guidelines ensure fans a good time
Harry Styles returned to the stage for his Love on Tour. After three years and amid a pandemic, Styles took to the stage like no time has passed and assured fans an experience of a lifetime.  
The tour is two years in the making, with Styles first postponing due to COVID-19 last year and this year finally setting fixed dates towards the start of fall. 
I attended Styles' third night of the tour in San Antonio on Sept. 9 at the AT&T Center. I drove out of Austin after my last class that day and arrived just in time to see the opening act, Jenny Lewis. 
Arriving at the venue, masks were required. In addition, guests had to show either a record of their vaccination or a negative COVID-19 exam within the past 72 hours. Walking into the Cherry Pit General Admission was easier than expected, considering I did not camp out at the venue and arrived in the nick of time. 
Soon enough, anxiety set in. I had not been in a crowd or concert since pre-COVID times. The pre-show nerves ceased to exist when Harry Styles and his band came on stage. Starting the show with "Fine Line" opener "Golden," Styles walked out with all the swagger in the world wearing a glittery lilac blouse with cream trousers and suspenders ensemble.  
The concert consisted much of "Fine Line" and included songs from his debut album, and even fan-favorite One Direction song, "What Makes You Beautiful." 
Styles and his band interacted with the fans throughout the show.  He recognized a fan from his previous tour and caught a bouquet of roses when thrown at him on stage. He danced his way around the round stage and aisles, sometimes introducing songs and other times diving straight into them; at one point picking up pride flags and flying them around the stage. Introductions to songs began with "It's time to dance!" for his hit song "Lights Up." Before belting out "Woman," he exclaimed, "It's time to celebrate…" He even teased fans by asking "What does it taste like?" as he introduced "Watermelon Sugar" and yelled out "Yeehaw!" during "Sunflower Vol.6."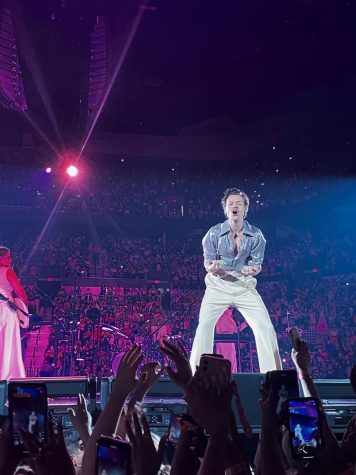 Towards the end of the concert, Styles gave a short speech thanking fans for attending despite unprecedented times. "Don't let anyone tell you what you can and can't do with your own self. Just have each other's backs," Styles said. "If we just have each other's backs a bit more, I think we'll be alright" – a hint towards the new restrictive laws on women in Texas and followed by singing "Fine Line" and "Signs of the Times." The show ended with an encore of "Kiwi," and the crowd jumped and screamed along as Styles danced and splashed water at fans. 
Styles set the bar for COVID-19 concert procedures and created an atmosphere of anticipation and excitement. He made a safe and fun space for fans to see him dance and sing along during what's been a very rough two years, giving them hope for the future.
Leave a Comment