Weekly SGA senate brief: Jan. 25
Here's what happened at Student Government Association's formal senate meeting on Jan. 25:
The senate was joined by Provost Marianne Ward-Peradoza, PhD, and Chief of Staff David Abercia, PhD, to discuss Spring 2023 Graduation plans. 
This year's commencement ceremony will be held on May 6 on the Lewis-Chen Family Soccer Field. 
A committee of faculty, staff and students meets every two weeks to plan graduation. Thus far, the committee has:
– Assured they are working with the City of Austin to ensure safety; 
– Identified backup plans for bad weather, including extreme heat;
– Referenced other institutions across Texas to inform their planning;
– Announced that each student will be allowed seven to nine tickets, but the matter has not been officially decided.
The committee has identified the following commitments to students during the planning of graduation:
– To have ongoing conversations that inform students throughout the planning process;
– To frequently share updated information  via email, social media and the St. Edward's graduation page; 
– To host a post-graduation review that will inform future ceremonies
Graduation will take place all day. The tentative schedule is listed below:

A breakfast reception is planned for before the Baccalaureate Mass; the time and place has yet to be determined.
The presentation was followed by a public Q&A. Questions covered topics like accessibility concerns, staging details and inclement weather scenarios. Based on the answers provided, here are the additional details we know about graduation day:
– The City of Austin's fire marshall is working to assess campus accessibility, and make adjustments where needed to fully accommodate all attendees. The committee anticipates having set plans for the accommodations made and announced by Feb. 21. 
– Anticipated accessibility accommodations include using the Teresa/East parking lot to aid those with disabilities in getting to the soccer field.
– The stage will be elevated so that graduates will be visible to family and friends.
– There will be sufficient time between the commencement ceremony and the Red Door Ceremony, so that friends and family may have time to transition locations.
– Plans to host a singular commencement ceremony have been settled by administration, unless in the case of inclement weather. 
– In the case of inclement weather, the ceremony will be moved to the RAC. In this case, students will be notified of the change before graduation day.
– GradFest will be held on Mar 23. This will give students an opportunity to purchase caps, gowns and other graduation goods.
Ward-Peradoza and Abercia will return to the senate in the coming months once more details have been finalized.
For more information on graduation, check out the St. Edward's graduation webpage or contact [email protected]
Financials
– A funding request by Asian Student Association for a "Crazy Rich Asians" movie premiere night (amended and approved).
The meeting concluded at 7:47pm with a final roll call.
Leave a Comment
About the Contributor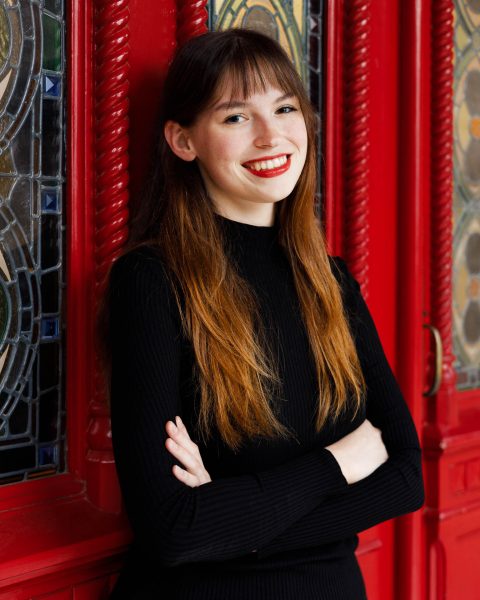 Chloe Almendarez, Managing Editor
Chloe Almendarez is a senior Psychology major with a minor in Education Studies. This is their second year working with "Hilltop Views" as Managing Editor....