REVIEW: Caroline Polachek's latest album welcomes listeners to her private island full of sonic productions, noteworthy vocals
Starting her music career in 2008 as the lead vocalist of Chairlift, Caroline Polachek showed she was not afraid to use her voice. Her vast range and keen ears made for some breakthrough hits in the indie scene, with songs like "Bruises" and "I Belong In Your Arms." While in Chairlift, she went on to make music under the names Ramona Lisa and CEP. After Chairlift's disbandment, she began making music under her own name. This is whenwhere she really earned her place in the spotlight.
Her debut album, "Pang," seems younger compared to theher newest release. In "Desire, I Want to Turn Into You," Polachek feels more grounded in her voice as an artist and as a person in the world. You can feel the isolation and want for connection within this album, as most of the songs were written during the COVID-19 pandemic. Polachek gets you to relate to the general desire for lust and love in a new, cut-off world. 
Polachek opens up her album with "Welcome To My Island," a mix of classic pop sounds paired with operatic vocals. This is the ultimate track one and a great way to start the album, as it perfectly braces your mind and your ears for what is to come. The bratty lyrics paint a picture of a woman who knows what she wants and how to get it with the chorus repeating "Welcome to my island / Hope you like me / You ain't leaving."
"Bunny Is a Rider," the first single from this album released in July 2021, transports you to a new place with its jungle-esque soundscapes. The low chirping of birds and the deep, groovy bassline remind you of island life, moving throughout palm fronds and bromeliads. This song"Bunny Is a Rider" is an escape to a non-pandemic world where you're free from expectation: "Bunny is a rider / satellite can't find her."
Polachek is known for her eclectic maximalist pop sound, but it truly shines in "Desire, I Want To Turn Into You."  Polachek is like a magpie, picking up sounds whenever she hears them and applying them to her own creations. From the flamenco-inspired sounds in "Sunset" to the bongos and the bagpipe solo in "Blood and Butter" to the medieval plucks on "Billions," Polachek is a genius of musical texture.  
In this album, we also see Polachek dip her toe into the world of features, which she hadn't previously done. Featuring Grimes and Dido, "Fly to You" has a different sound compared to the rest of the tracks on the album. Grimes and Dido's voices are dissimilar to Polachek's, which ultimately severed me from the world she was creating. Thankfully, the next track, "Blood and Butter", rebuilds it seamlessly.
Closing out the album with "Billions," Polachek leaves her listeners with hope for love. Listeners are overcome by a sense of desire for that feeling that she seems to be running toward as the music swells to an almost church-like quality. The final lyrics "I've never felt so close to you," sung by the Trinity Children's Choir, show that Polachek is ready for and open to what love can bring to the table and show that her listeners should be too.
Leave a Comment
About the Contributor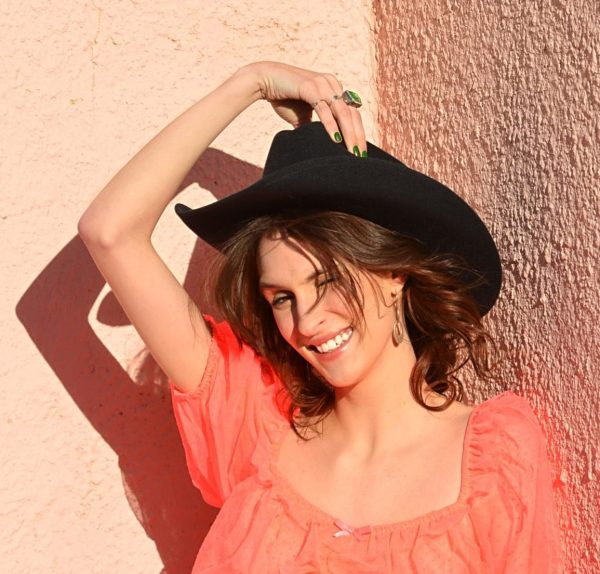 Emma Sutton, Staff Writer
Emma Sutton is a junior a majoring in writing and rhetoric with a concentration in journalism and digital media. It is her second semester writing for...