University receives $2.1 million grant for first-generation Hispanic students
St. Edward's University is celebrating the announcement of a $2.1 million grant from the Hector and Gloria López Foundation, which will provide full tuition assistance for 15 first-generation Latino students starting in Fall 2023. The López Scholar Program aims to increase education equity and workforce opportunities for Latino students across Texas.
"When I first went to college, I didn't feel like I belonged there," university president Montserrat Fuentes said. "I didn't know how things would work. I didn't have that confidence. I didn't even want to acknowledge that I was first-generation, so I want students to feel at home from day one. My hope is that by acknowledging that 'yes, I'm first-gen, and I've been able to become a president, and you can too.' That sense of belonging is critical and is the intentionality that we need as an institution to (provide) support for our first-gen students."
The program will cover tuition and fees for over five years and will offer resources such as mentorship, tutoring, housing, study abroad opportunities, paid internships and leadership development. 
The event opened with an invocation from The Most Reverend Joe Vásquez, Bishop of the Diocese of Austin.
"This is a great blessing for the university to have the Hector and Gloria Foundation give this wonderful gift," Rev. Vásquez said. "I think it is going to benefit so many students. They're going to be able to now have the opportunity to go to university — a Catholic university — be able to get a great education and then to go out into the world and serve people."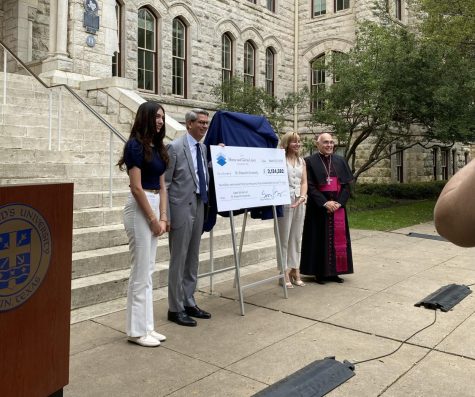 Student Government President Ella Ochoa gave a speech on Wednesday when the university announced the grant about her experience as a first generation student.
"St. Ed's is very intentional about how they engage first-gen Hispanic students, given that we are a Hispanic-serving institution," Ochoa said. "They're very generous in their scholarships. If it wasn't for the financial aid, I wouldn't have been able to attend St. Edward's. I'm really grateful for that aspect but also the family aspect. I'm very close to my family back home, and I feel like I've been able to create a home away from home over here which is also very empowering. I think coming to Austin as a student and putting myself out there has definitely opened up my world in a way I could never have imagined."
The HGLF CEO and President Sergio Rodriguez, nephew of Hector and Gloria Lopez, presented the donation during the announcement. 
"We are very confident that the partners we have chosen, like St. Edward's, are going to help us to graduate these students so they can be future leaders," Rodriguez said. "My Aunt and Uncle lived in Alice, Texas, a small town 40 miles west of Corpus Christi, and they saw generation after generation of mostly Hispanic students graduate from high school and not go onto college, and they wanted to break that cycle because they would see these students would lose their jobs, be employed in the service sector, and they knew to really move the needle for these students — they would need college degrees. That was their dream years ago, and I'm just excited to be the one to do it." 
This is only the second year of grant making for the foundation, according to Rodriguez.
"Last year we made two grants, and this year we are making five grants, so we have not yet had a graduating class," Rodriguez said.
To be eligible for the López Scholar Program, students must be Hispanic, demonstrate financial need, be a first-generation college student and have lived in or graduated from a high school in one of the five focus areas: El Paso, Austin, San Antonio, South Texas and the Rio Grande Valley. No submission of GPA, SAT/ACT scores or any form of application is required.
The López Scholar Program has the potential to make a significant impact on the lives of Latino students in Texas, creating opportunities for higher education and fostering a sense of belonging. With the support of the HGLF, St. Edward's University continues its commitment to inclusivity and providing resources for first-generation students to thrive. As the program develops, it will contribute to the wider goal of increasing Latino representation in higher education and the workforce, ensuring a brighter future for these students and their communities.
"I think this is a blessing for those students who will benefit and also for this university who has always wanted to serve Latinos," Rev. Vásquez said.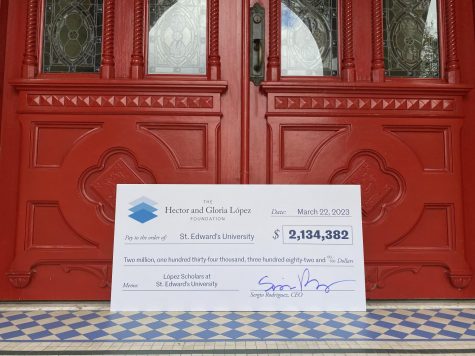 Leave a Comment
About the Contributor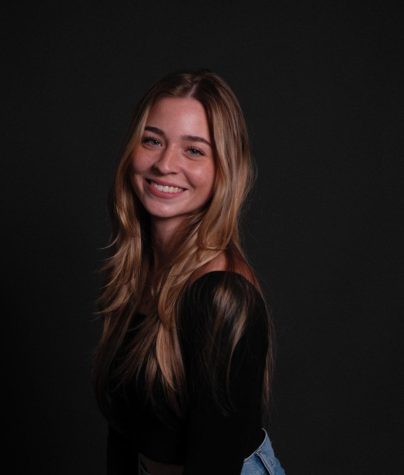 Breze Reyes, Staff Writer
Breze is a senior majoring in communication with a minor in journalism and digital media. It is her second semester writing for Hilltop Views. During her...