Eat, Pray, Love: The band is back together at End of an Ear Boygenuis listening party
Vinyls, CDs, cassettes and posters galore. Record store End of an Ear has been selling all things music in Austin since 2005. Located at 4304 Clawson Rd. just off West Ben White Boulevard. End of an Ear regularly hosts events like listening parties, giveaways and free live in-store performances along with the occasional signings.
 I had the pleasure of attending one of these listening parties last week. End of an Ear hosted an early listening party for Boygenius' new album "The Record." 
When walking through the door of the store, I got an immediate feel of the place. Some patrons thumbed through the many well-organized shelves of new and used vinyl records under a sheath of posters that hung along the walls, while others silently nodded their heads to the voices of Julien Baker, Lucy Dacus and Phoebe Bridgers over the alternative, folky tracks. 
The listening party was a blast. Besides getting a sneak peek of the album, if you got there early enough, you were given a free promotional poster of the band and a silver wrist band with the Boygenius logo on it. End of an Ear also planned to give away six signed lithographs, but unfortunately, they didn't get in early enough to give out at the listening party. They were raffled on End of an Ear's official Instagram account along with a tote bag. 
End of an Ear offered a perfect atmosphere for first-time listening with speakers that reached all parts of the store, but the speakers were not set too loud so you could still discuss a song with a nearby friend. Surrounded by Boygenius fans, there were smiles and tears that erupted from the listeners crowded in the aisles. 
It had been five years since Boygenius last released music, and fans were patiently waiting for a reunion of the three artists. Julien Baker, Lucy Dacus and Phoebe Bridgers all released solo music during the 5-year break, but hearing their voices back together was worth the wait.
The first album from the group titled "The Record" is classic Boygenius but with a certain maturity not found in their self titled EP "Boygenius-EP." The maturity doesn't just come from the older sound of their voices but from a long blossoming friendship between the three.  
Starting off the album with a hymn-like acapella tune written solely by Dacus, Boygenius begins a familiar descent into the intricacies of love and family. "Thank your father before you/ His mother before him/ Who would I be without you, without them" sings the band in charming, nearly quartetish harmonies in "Without You Without Them." 
Quickly switching from the homey vibe of "Without You Without Them," the guitar-heavy "$20" is about a seemingly stunted place where people hang out in "the T-Bird graveyard where they play with fire." Capturing the feelings of a devil-may-care youth, the song ends with Bridgers belting out screams asking for and then demanding $20. 
The youthful rebelliousness represented in "$20" carries over to the ninth track on the album: "Satanist" is reminiscent of the tumultuous years of trying to figure out who you are and who you want to be. Lyrics like "Spray paint my initials on an ATM/ I burn my cash and smash my old TV/ Will you be a nihilist with me?" accompanied by a Nirvana-esque guitar riff expresses the frustrations of growing into yourself. 
Like in their EP, each singer trades off vocals throughout the album, bringing their own flare to the songs. Baker, Dacus and Bridgers split the lead vocals so that each artist could shine. Bridgers brings the sound of her sophomore album "Punisher" to "The Record" with "Revolution 0" and "Emily I'm Sorry," with Baker and Dacus only entering to deliver backing harmonies. 
In "Anti-Curse," Baker recounts the story of a near-death experience involving a swim at a public beach. As she sings about "making peace with her inevitable death" she turns her attention towards her relationships: "I guess I did alright, considering/ Tried to be a halfway decent friend." Baker related her friendships with Dacus and Bridgers to "An incantation like an anti-curse/ Or even a blessing. 
Led by Bridgers, the final song on the album, "Letter To An Old Poet," harkens back to a tune on their EP "Me & My Dog." Although both songs are about a certain heartbreaking experience, "Letter To An Old Poet" shows a switch in framing: Bridgers is ready to move on. In "Me & My Dog," Bridgers sings "I wanna be emaciated/ I wanna hear one song without thinking of you" whereas on "Letter To An Old Poet" she sings to the same melody "I wanna be happy/ I'm ready to walk into my room without looking for you." 
 "The Record" is about growing and changing all while maintaining those relationships that help you on your way, because where would you be without them? If you are around town, check out End of an Ear for this new sound.
Leave a Comment
About the Contributor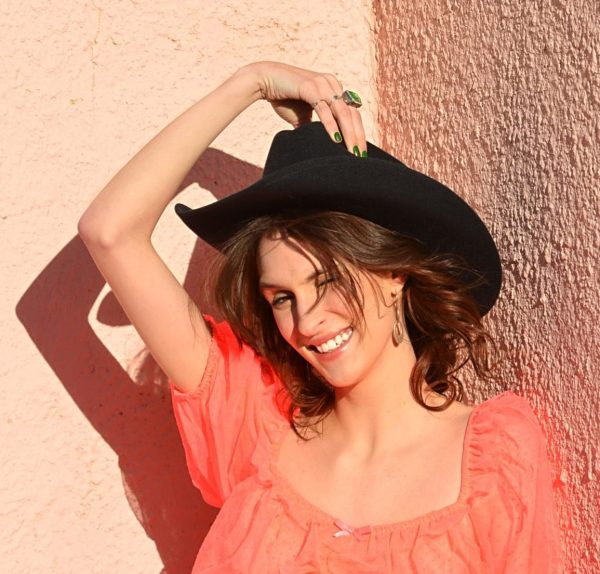 Emma Sutton, Staff Writer
Emma Sutton is a junior a majoring in writing and rhetoric with a concentration in journalism and digital media. It is her second semester writing for...