Guest director dives into the details of MMNT's upcoming show
Mary Moody Northen Theatre is currently in production on "Luchadora!," the second show of the spring semester. UT Austin PhD student Khristian Mendez is guest directing the show. 
"The story is an adaptation of Mulan with Mexican Lucha Libre, so it keeps the elements of the story where the protagonist's father is ill and cannot fight and his daughter takes his place," Mendez said. 
Alvaro Saar Rios' "Luchadora!" takes place in Texas in the 1960s and is about tomboy Lupita, who must take the place of her ill father when he is announced as a fighter at a World Championship wrestling match. 
She does this in secret, because she is not a boy and is not allowed to participate in the match. The show is about the difficulties she faces while living a double life in order to train and take on her father's match. 
"That's the arc of the story, but there's more to it because it takes place in the 1960s," Mendez said. "So it's also about migrant Mexican communities but also migrant German families. I think at its heart, it's about the things we let young people do — or what we don't let them do — based on their gender and how it impacts who they grow up to be."
In ways, the show reflects the current legislation under review in the United States about the rights children have over their own bodies, as well as transgender and female rights in general, according to Mendez. Not only does the show feel close to Americans for these reasons, but it feels close to Texas as well, because the show is set there. 
"The show gets produced a bunch, and I'm not Mexican, but it's clearly about Mexican culture," Mendez said. "One of the things we wanted to avoid was what has become the very stereotypical Mexican, with the orange and the purple and the light blue. We wanted to avoid that and try to give something that's a little different but still feels Latino. The floor was a huge part of it, trying to keep the traditional tiles but with a twist."
This is Mendez's first time on the Hilltop, but he has enjoyed directing the show and being able to work with such a large cast of 18. He is very excited about the fact that everyone can be in the show and work together in person, which hasn't been the case for quite some time due to COVID-19.
"It's my first time directing here, so I've been learning the ropes in terms of how everybody does things at St. Ed's," he said. "I've had a blast. I've felt super embraced by the faculty and the staff. There were several key members of the team that got hired a little later than I'd like, but we have all the right people for those jobs. Even though some of those hires were later, I think the voices we do have in the room are the right ones." 
With the cast and crew having been finalized on the later side, the show has been hard work so that everything will be in place for opening night this week. Even with long, hard days, everyone involved has enjoyed their time in rehearsals and getting ready for the show. 
"It's been greuling for everyone; the students in particular," Mendez said. "I think what keeps us going is that it's looking really good, and we're having fun, and we're telling a story that doesn't feel like it's been done before, even though this play has been done many times."
"Luchadora!" premieres tomorrow night and runs through April 23. Evening performances start at 7:30 p.m. Two matinee performances are also running on April 16 and 23 at 2 p.m.
Leave a Comment
About the Contributor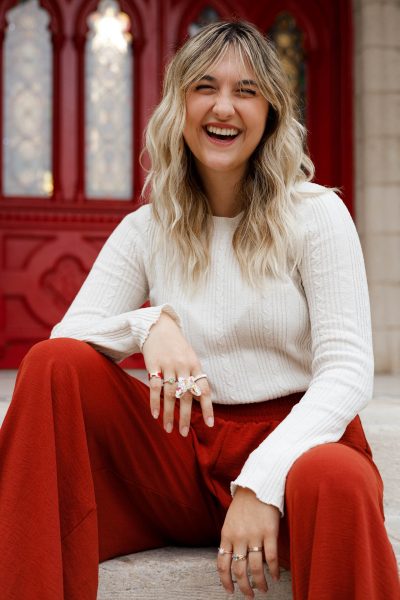 Lola Claire, Assistant Life & Arts Editor
Lola Claire is a junior writing and rhetoric major with a concentration in creative writing and a double-minor in Journalism and Digital Storytelling....