On Friday, Sept. 15, 2023, students showed up to embrace that important sense of campus community and join their fellow Hilltoppers in watching "Coco" at Jones Auditorium in the Ragsdale Center. 
There was plenty of food and drink available; The University Programming Board had generously provided snack options for students wishing to watch the film. This made the experience feel that much more curated to college life on the hilltop. If you want students to show up, provide them free food! 
"This is my first outdoor night, but it's not my first event,"  sophomore Paola Ruiz said. "I've done about three events but they've been pretty good! I have a lot of fun doing it and I have a lot of fun interacting with the students."
"I feel like it's a little hard to get out there especially for the freshman so events like these help people come together," Ruiz said. "My freshman year, which was last year, I did a lot of events like this with the people I met here and now I'm super great friends with everyone that I went to events with."
Although the showing of "Coco" was originally planned to be held outdoors on Teresa field, the event was moved indoors due to weather. This, of course, is bound to cause confusion, however many of the students seemed to be aware of the change in location thanks to social media posts from the SEU Involvement team's Instagram. 
Students like sophomore Estella Grace appreciated the opportunity to escape the heat and mentioned she would prefer future events like this be, "indoors, because Texas is too hot right now."
The weather outside is uncontrollable and there can be distracting noises, but the cozy setting inside the Ragsdale Center offers a bit more flexibility and control. As for accessibility, the space is friendlier to those who could not otherwise make it so easily to Teresa field.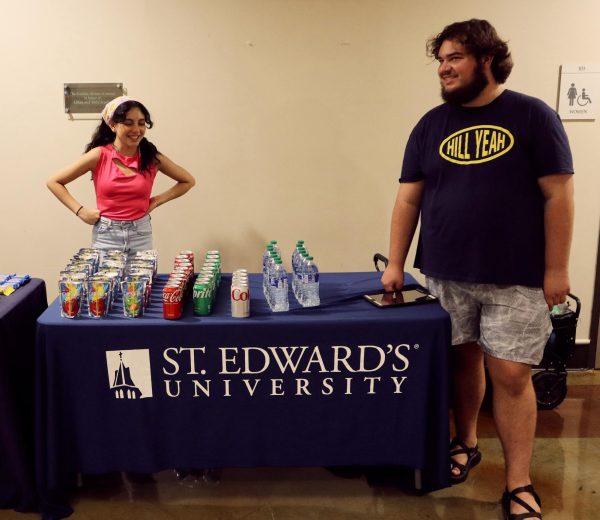 "When we do indoor events the buildings tend to be more accessible especially when it's Jones auditorium because the doors are right next to the ramp," Ruiz said. "Not many people know it's here, but it is more accessible, it's easier to get to, it's closer to the dorms."
The movie was selected by students on social media, so the event served as a great opportunity to engage those who are looking for something to do on a Friday night. If students take part in selecting a movie, they are much more likely to actually show up for that movie, and it can lead to a stronger sense of community when around others with similar interests. 
"I feel as though [the University Programming Board] is a vital part of the St. Edward's community," UPB Executive Director Austin Lane said. "It brings the campus community together; it makes us closer."
It's important to note that the students chose a film so connected to this sense of community as well. It speaks to the larger needs of the student body as a whole; a yearning for community and a longing for connection and family that "Coco" as a film certainly illustrates. 
"I feel like it just brings this sense of home to a lot of people," sophomore Daniela Valencia said. "You just wanna remember special memories of your family, which is what the movie represents, so I feel like it's just a way to commemorate how you feel with your family."
Valencia also believes the St. Edward's community is a family in itself. 
"I feel like there's a sense of community where a lot of people can interact with each other and feel a sense of belonging," she said.
You can keep up with the latest campus happenings and events by following the official campus involvement social @seu_involvement on IG!