When you visit a patisserie, you can expect a feast for the eyes as well as one for your stomach. Rocheli's Patisserie, a quaint cafe located off East 13th and Chicon Street, is no exception. The first thing you'll notice is that the entire shop is photo-opt ready. To your left stands a rose upholstered wall with golden crown molding. To your right are the display cases filled with tiny, carefully crafted pastries. Look up and there is, of course, a crystal chandelier. 

I first stumbled upon Rocheli's after seeing that they made the "spiral croissants" that went viral this summer on TikTok. Nicknamed after their shape, the filled croissants are shaped into discs, giving the pastry's surface a swirled appearance.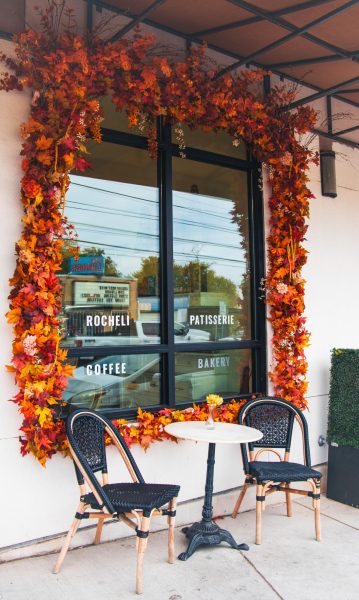 I'd tucked the place away in my mental "take mom here for Mother's Day" bin but couldn't help bringing her sooner.
It would seem someone else had a similar idea because there was a large group having a high-tea baby shower. Who could blame them, though, when Rochelle's is a great spot to get together on any special occasion with pastries and drinks that taste just as good as they look. The pastry cases are like mini art galleries. Thankfully, there wasn't anyone in line behind us, so we had plenty of time to stop and stare as we made our selections
Each pastry was meticulously arranged, from the precise piping to the carefully placed fruits. The champagne fruit tart ($7.95) immediately caught my eye. The tart had a crumbly vanilla shell and was filled with a silky-smooth vanilla cream and had a hint of champagne in the flavor. Each bite had a unique taste and texture as I encountered gold-dusted raspberries, blackberries, figs, strawberries and plums. My mom went for their seasonal pumpkin mousse cheesecake ($12.00). Under the white chocolate shell was a layer of tangy pumpkin cheesecake and a fluffy spice cake insert.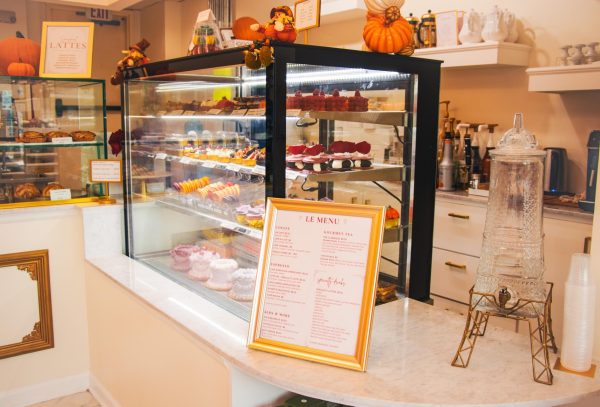 This level of craft comes at a slightly elevated price, so the pastries are definitely a special treat rather than an everyday thing. Their drink prices, however, are more typical and range from $2.50 to $10.00.  
Unfortunately, they were out of their croissant suprêmes ("spiral croissants"). If you're looking to snag one, you'll have to get there early because they tend to sell out around noon.   
Seating can also be in short supply. Inside there are five tables that snugly fit 16 people total. If you plan on having a seat, I suggest stopping by either before noon or a little toward late afternoon.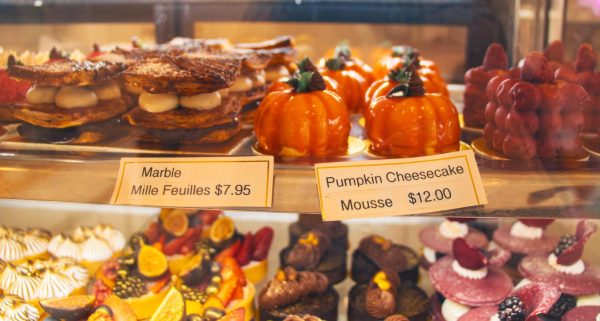 For this visit, I arrived at 5 p.m. not expecting much of a crowd so close to the 6 p.m. closing time (I think it's safe to assume, though, that a baby shower on a random Wednesday evening is an outlier).
After we ordered our pastries, we decided to get some of their gourmet tea. We were recommended the Marie Antoinette Rose Petal, the Parisian and the Thé des Alizés. If you thought Rocheli's commitment to detail stopped at the drinks, you'd be mistaken. Even their tea has flair. It is served with a Lotus biscuit, a sugar cube and a dusting of gold, edible glitter. If you take your tea to go, don't worry, it will still be sparkly, too.

Fifteen minutes go by, and the baby shower wraps up. With the place just to ourselves, I get a better sense of what a lull at Rocheli's is like. The air is sweet, and French music plays softly as the occasional customer passes through. The rattan bistro chairs and ornate decor remind me of what I'd imagine a little cafe in France to be like. It was like taking my mom to almost-Paris. If you are looking for a bit of stay-cation to your own French oasis, I suggest stopping over at Rocheli's for your weekend delights.