St. Edward's alumnus John Patrick Cobb '83 recently returned to the hilltop to unveil his art exhibition, a venture he began during his time at St. Edward's as a student. A modest man with a friendly disposition, Cobb opened the event with a description of his long and resolute process. He notes the extreme dedication required for the pieces. The 27 paintings were done using egg tempera and gold leaf, with his painting "Baptism by Fire" requiring over 40 layers of paint to capture the intricacies of the scene.
"It does take a lot of time, but it's worth it," Cobb said.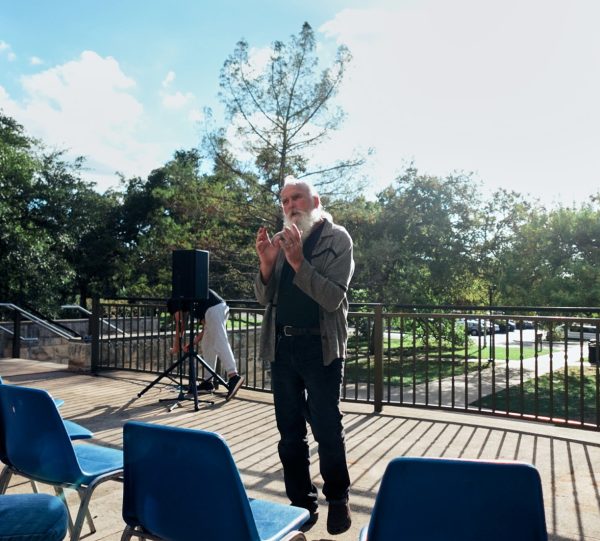 Cobb took time to explain his story and how his life experiences have shaped his art. Born and raised in Texas, Cobb struggled to deal with his parent's divorce during his adolescence and was vulnerable about the unhealthy coping mechanisms used to handle distress. However, he excitedly described how his work remodeling and repainting Chapel in the Dunes in Port Aransas, Texas came to be his saving grace. It appeared to be difficult work; Cobb had to tear off old paint and start from scratch, but his work at the chapel inspired him and guided him out of difficult times.
Later, he came to the hilltop to pursue art. He noted that the spiritual direction provided to him by the brothers of the Holy Cross Institute at St. Edward's was invaluable to his development as an artist. Here, he learned technique and form, but more importantly he learned to persevere. 
"That kind of discipline is a good thing, so I stuck with it," Cobb said.
The marvel of his work was reflected in onlooker's reactions. Most people pause before every painting, giving the pieces a well-deserved analysis before moving on to the next. The art captures the divine nature of traditional European religious iconography.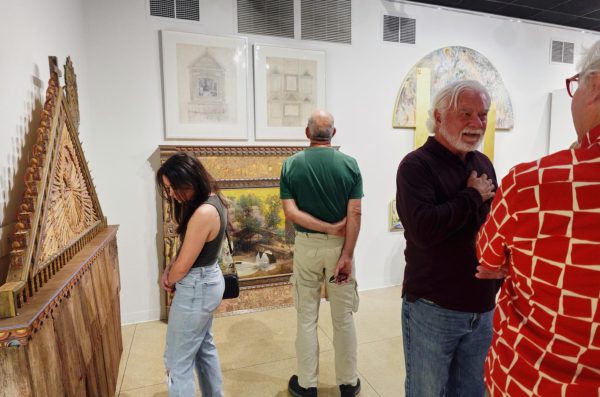 "It's really an American chapel," Cobb said, describing his use of a variety of modern subjects where traditional religious art lacks diversity.
The subjects of his paintings aren't as predictable as traditional religious works. Instead he has painted modern faces, using subjects of all races, genders and ages in an effort to "bridge a span that goes back to the Middle Ages using contemporary subjects." 
Cobb's art has been brought to campus with the help of the Holy Cross Institute here on campus. His art evokes their mission to be "artisans of renewal," as it seems to bring new life to the subject of religious art and its role within our modern world. Cobb uses familiar yet relevant locations in his paintings, such as Austin's own Hippie Hollow, to explore the spiritual nature of life itself. Just as the members of the Holy Cross are encouraged to foster and find meaning through educating hearts and minds, Cobb's exhibition deals with meaning on many different levels.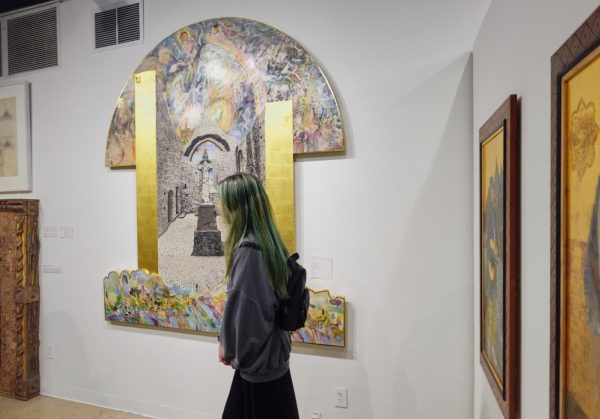 "I'm out there trying to find my meaning and other people's meaning in the world," Cobb said."There is an underlying faith in what I am doing, and how I express my faith through art." 
This art exhibition provides a significant opportunity for students on campus. As art student Emma Thaman points out, "it is valuable to see the work of an experienced artist, especially one who comes from the same school as you."
The on campus gallery provides an interesting and relevant experience for all students, but has extra meaning and value for the many art students on campus. Having the knowledge that creating such amazing work is possible can be a very helpful asset for students who feel burnt out, confused or overwhelmed by the prospect of their future career.
Overall, Cobb's art is one of the many beautiful examples of St. Edward's alumni creating change in the world through faith. This exhibition provides amazing work for students to view, and exemplifies the university's mission to educate both hearts and minds. The show is open to the public and available for viewing within the Fine Arts Gallery until Nov. 2.