It's On Us and Students for Sustainability conjured an unconventional outlet for students to relieve their stress during the Halloween season. It's On Us is a national organization that focuses on combating sexual assault on college campuses. This event was a way for survivors and allies to help heal the earth and themselves.  It's On Us tends to throw stress-relief events around this time as midterms creep in, usually allowing participants to break bowls or plates. However, this year, students were encouraged to smash pumpkins in the SFS community garden. 
On Oct. 16 students joined in the community garden, located behind Teresa Hall, to whack pumpkins into gooey pieces. Rinds and seeds flew all over the place while thumps and cheers radiated throughout the garden.  
"I think sometimes it's hard to know what the best way to move forward is and sometimes you feel alone, so having a space where there's other people and you don't have to necessarily talk about anything (is important)," It's On Us President Laura Chappell said. "It's just a space for you to smash some pumpkins (and) let out some anger. No one knows what you're thinking about when you're smashing a pumpkin.
Some participants smashed their pumpkins with sticks and rocks found near the garden. Meanwhile, others took the different approach of throwing them onto the ground and then stomping on the rinds. 
"You're just letting out some anger or however you're feeling so I think it's really important to provide a space for people who may have similar stories (or) may not, but there's a common theme to come together and do what they need to do," Chappell said.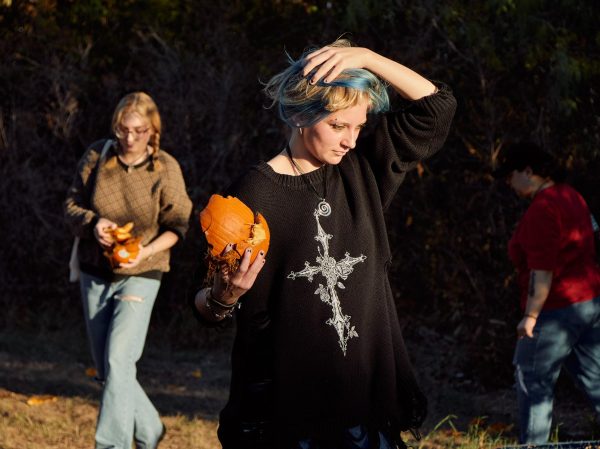 This outpour of feelings can be beneficial to your mental health. The idea behind these sorts of events is that the cathartic feeling of breaking something can give people an outlet for emotions they bottle-up or don't know what to do with. The pumpkin smashing can give students a feeling of control and empowerment and provides a fun outing with friends on the hilltop.
"This is a great exercise to sort of express anger or more rough feelings that can be really hard to find an outlet for," SFS Co-Vice President and It's On Us member Sully Snook. said "I think this is a great, very seasonal, fun opportunity that a lot of people have been looking forward to." 
After the pumpkins were annihilated, their seeds and guts were left for the critters and soil in the garden, and their salvageable rinds were composted. Composting the pumpkin waste is part of SFS' initiatives for sustainability on the hilltop. Through providing events like pumpkin smashing in the garden, more students can take part in keeping the garden bountiful for many students and faculty across campus.
"Hopefully, if everything goes well, the seeds will sprout up and we'll have some pumpkins, which act as a really good shade cover on the ground to protect soil health," SFS President Nina Collard said. "So, that's going to help with our food forest in the long run."