This semester, environmental science and policy students are getting hands-on experience by building boats from scratch to study Texas wetland ecology. The crafted vessels will be test-launched on Nov. 17 at Lady Bird Lake. 
The course, wetland ecology and the craft of boat-building, was offered for the first time this fall. Associate Professor Steven Fletcher is leading the class and often spends early mornings and weekends in the workshop he built into East Hall.
"The design of the course has been 20 years in the making for me," Fletcher said. "I built a boat with my dad when I was 15, and it changed my life. It was transformational to be able to see flat sheets of wood turn into this organic shape. And then to be able to put it in the water and actually use it was powerful, it was a powerful experience and I've always wanted to give others that chance to do that."
This course is made possible by grant funding. The Technology Learning and Teaching Roundtable, which is a faculty-driven committee that looks at how to bring more innovative curriculum to campus, awarded an innovation grant to the School of Behavioral and Social Sciences, according to Fletcher.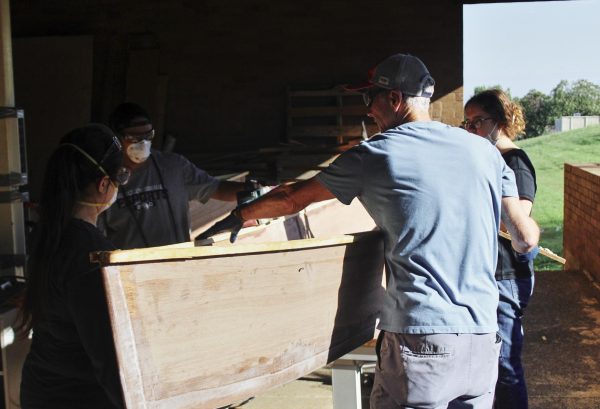 "So, if the university loves this stuff and they want to fund more of it, then I'm always happy to teach it," Fletcher said. "But (the materials) cost money; it's not free. And nobody wants the students to have to pay for the experience like that."
In the course, students are learning to respect the process of building something from the ground up.
"Dr. Fletcher has a point to make of not just going in and building boats, but also thinking inward about it and what each of us individually are getting from it," senior Olivia Prior said. "I think it's a really cool way to do a creative making class, and getting to experience something that I never really would have been able to before. A lot of ENSP classes there's just stuff we have to learn, but in this way we're taking our knowledge and using it in real life."
Students like Prior enjoy the hands-on aspect of learning rather than traditional textbook and lecture teaching.
"I think the experience of using power tools and working in a group in a big setting like this, it's not just a paper or presentation–it actually matters," junior Grace Hosek said. "It will sink if we don't work together the right way."
In the first three weeks of class, students built smaller models of the boats, and afterwards, they split up in groups to craft 16-foot boats based on the models. The class has worked together to create a total of five boats.
"It's a completely different perspective from actually getting hands-on working with something together, than versus just writing a paper, at least in my experience," senior Victoria Avila said. "We're all understanding one another and having that good communication across the board. Our professor brings that passion and that enthusiasm and I think that's what keeps us even more engaged with the class."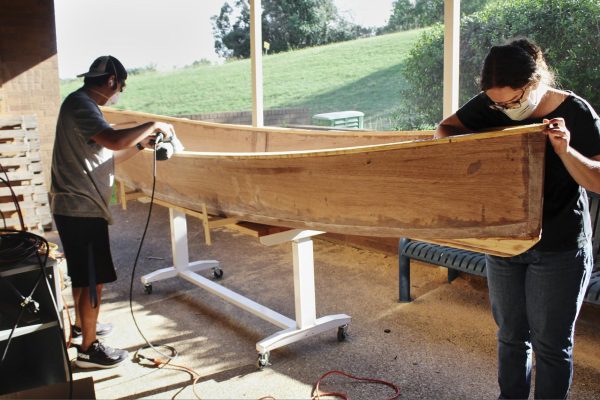 Senior Beckett Postiglione emphasizes how students in the course also enjoy learning about the importance of wetland ecology.
"In general, wetlands are really crucial to a lot of things; they're a very important ecosystem that, unfortunately, has lost a lot of its land coverage across the world and in the U.S.," Postiglione said. "So, I think this class is important because we're going to learn a lot about that kind of (things) in the back half (of the course). You get the fun, team building stuff, which is kind of untraditional of a class like woodworking, working with your hands. It's not something you normally do as a class and then actually (get) the class part where we get to learn about the importance of wetland ecology."
The class will soon travel to the coast to gain more experience with Texas wetlands. 
"I feel like, from this class, I've gained a lot more of being able to really connect with people in my major," Avila said. "We're creating that stronger foundation of we're all passionate about the same thing, and growing it as more of a family perspective."