Troupe members race against clock, create original plays within 24 hours
Riding a dinosaur and singing off-key High School Musical songs to a penguin mask was the last thing Santiago Facundo III expected his Sunday night to look like. But that's the price of theater.
"We did our first reading of the play and I was like, 'What the hell is this?'" Facundo said.
By "This" Facundo is referring to the third 24 Hour Play Festival, a theater event that puts students to the test by forcing them to create a handful of succinct plays from scratch. Troupes are given a short 24 hours to memorize, produce, and stage their original work before performing for audiences.
The very idea of completely creating a play in a day is so insane that only theater kids would dare accomplish such a feat. Sophomore theater major and actor in the festival, Santiago Facundo explained what makes a challenge like a 24 hour play so fulfilling.
"I think every actor needs to go through a rush, something panicky that forces them to do something that they normally would have [more] time to do," Facundo said. "It works your brain. It works your mental might. As tired as I am and how hellish it was, it was totally worth it."
Hosted by the campus Transit Theatre Troupe, the event featured a variety of original short plays written, produced and performed exclusively by students. This endeavor, pushes and challenges students as artists, writers, actors and people.
Transit Theatre Troupe member Emile Lachney and Transit Theatre Troupe officer Marcos Ramirez described the juxtaposition of exhaustion and energy that goes into creating a play in 24 hours.
"The pressure is on," Lachney, writer of the play 'Dino-Danger,' said. "You don't have time to second-guess yourself and you certainly don't have time to make excuses to not do it. It's a good exercise to teach you to get the ideas out on paper."
"Figuring out how a play's going to look comes pretty naturally because actor's tend to have that natural instinct for how they're going to do it," Ramirez, director of 'How Long 'Till You Break,' said. "The hardest part was just managing when we needed breaks, when we needed to push a little harder. Just kind of people managing."
Minutes before the event began, crew members were hurrying to set up extra chairs to accommodate an audience of over 50 people. The pre-show chatter charged the room with energy as students, many of whom were friends of the actors, buzzed with excitement.
The line up of the plays took the audience on a roller coaster rising and dipping into emotions from laughter to solemnity, working to balance various moods of each play. The plays ranged from a story about an eccentric dinosaur-themed rock band to a performance depicting a dramatic murder mystery, which takes place in the space between life and death.
Managing Director Hannah Wilson shared the resounding purpose of hosting such a grandiose event as The Transit Theatre Troupe's 24 Hour Play Festival.
"It's really important because art can say so much, and we have so many people that really want to say things," Wilson said. "Just being able to have the ability and the talent and the skills to do things for yourself is a great thing for students here to learn. It gives them an opportunity to get onstage and work their craft. And it also provides an opportunity for students who want to try new things, see what they like, and grow as artists."
About the Contributor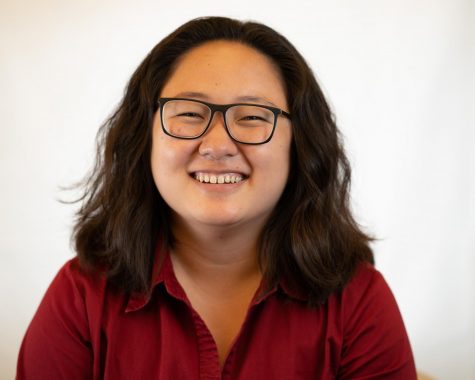 Lilli Hime, Staff Writer
I am Lilli Hime—English Writing and Rhetoric major and freelance writer at Hilltop Views. This is my senior year at St. Edward's University.

My role...