Bastille, Ella Eyre charm massive crowd at Cedar Park Center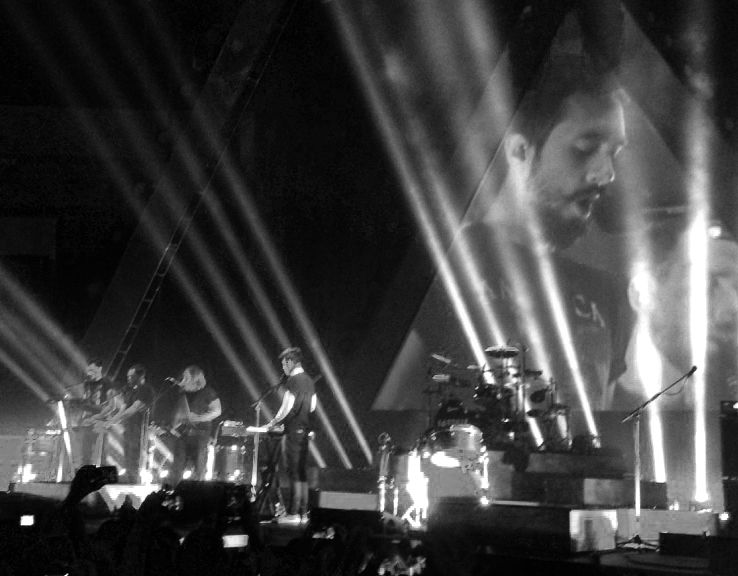 Staff Writer
November 14, 2014
Continuing their nation-wide Last Stand Tour, Bastille performed at the Cedar Park Center. 
Bastille just returned to America after a week-loang break spent in their home country, England. 
Prior to the break, they were finishing up the first leg of their first American tour.
Bastille are an English rock band formed in London back in 2010, but they are just now beginning to receive high levels of fame here in the United States.
Lead vocalist Dan Smith began as a solo act but later formed the four-member band signed with Virgin Records. Bastille's alternative, indie rock music is a unique blend of soulful, often depressing, lyrics and melodious instrument combinations.
Bastille's very first performance in America was at Austin's South by Southwest music festival in March earlier this year, and Smith was happy to be back in Austin.
"This is the first leg of the second half of our tour, and it is awesome that we get to spend it with you guys," Smith said.
Fellow Brit Ella Eyre opened for the band. 
She sang several of her hit songs including "If I Go" and "Comeback." After a complete instrument exchange, Bastille was welcomed by a more-than-ready crowd.
They opened with "Things We Lost in the Fire" from their first studio album "Bad Blood," which was released in the U.S. on Sept. 3, 2013.
According to the Official Charts Company, "Bad Blood" was the biggest-selling digital album of 2013 and number eleven in the overall Top 40 Official Artist Albums of 2013. 
The album also reached number one on the UK Albums Chart.
Their hour and a half long set was filled with a mix of their top-selling songs as well as some new songs that are set to be released on their new mixtape, "VS (Other People's Heartache, Pt. III)," due out Dec. 9.
They concluded their set with "Flaws," during which Smith ran a lap around the floor audience and even went right through the center of the screaming crowd. 
They also performed a three-song encore including "Get Home" and "Of the Night."
Their final song was their chart-topping song, "Pompeii," which reached number two in the United Kingdom and number five in the U.S.
 Follow Samantha on Twitter @samanthdriscoll