St. Vincent sends crowd into frenzy while staying motionless for most of time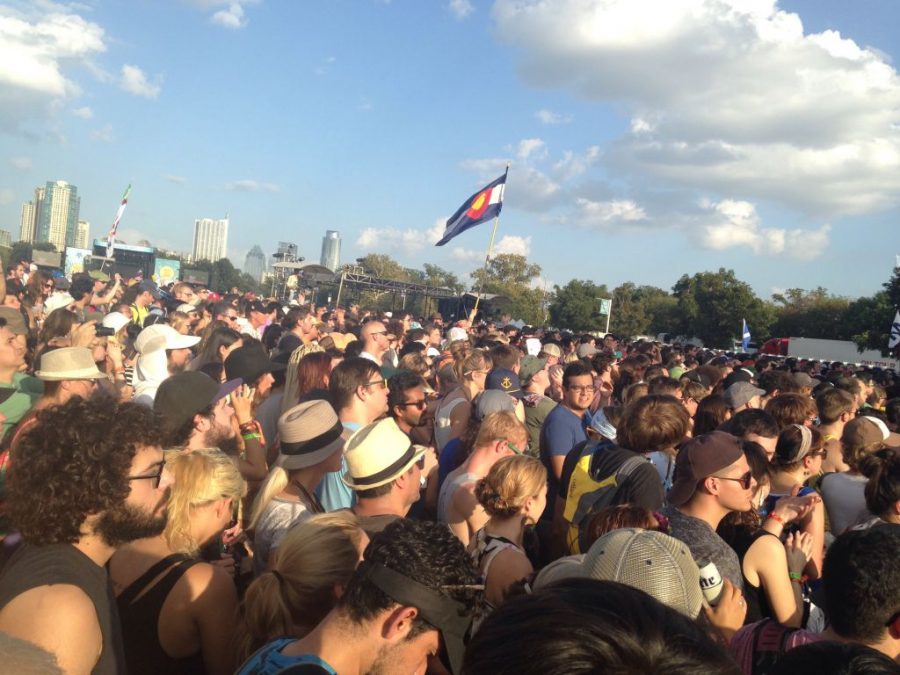 Life and Arts Editor
October 20, 2014
The first thing I noticed when I walked up to the side of the RetailMeNot stage where St. Vincent was performing at Austin City Limits on Friday afternoon were the three sign language interpreters that were interpreting the whole performance, switching off at the end of each song. These three interpreters were skilled at their craft, capturing the facial expressions and body language of each song in a distinct way.
Once Annie Clark, better known by her stage name St. Vincent, broke into the song, "Cheerleader," everyone started pumping their hands into the air, including the interpreters. A fan yelled from the crowd, "She's awesome!"
Then St. Vincent launched into one of her more well-known songs, "Birth in Reverse," and the audience erupted into a bopping frenzy. Her purple hair and static posture for most of the song somehow made the performance that much more powerful. Her fingers masterfully plucked at her electric guitar strings, creating an infectious beat that was hard not to move along to.
"Huey Newton" was played next, and the song's floatiness was exemplified by St. Vincent as she stood motionless in her leather black dress that had a intricate golden sleeve cap.
During her next song, "Bring Me Your Loves," the singer upped the energy and began to dance around on stage, jamming with her lime green guitar. She stomped around the stage with a background of flashing green and white lights behind her, singing, "Bring me your loves, all your loves, your loves, I wanna love them too, you know." The song was repetitive but it was impossible to grow tired of because the beat was so catchy.
The crowd was large and loud, singing along with the lyrics and cheering after each song. Even though St. Vincent didn't move around very much, her electric energy was so powerful and infectious that the rest of people in the vicinity couldn't help but dance along to her set.
Follow Audrey on Twitter @audeveofeden