Young South Korean music duo wows with debut album 'Play'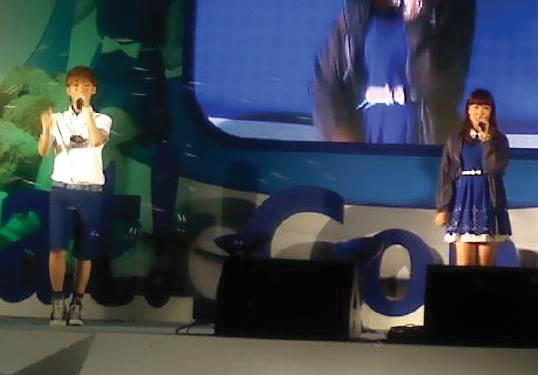 Staff Writer
April 12, 2014
Sometimes you do not need complicated concepts to carry a record. Get your basics right, and you can really run past experienced acts. For this theory's test case, we are taking a look at South Korean sibling pair Akdong Musician (AKMU if you are feeling lazy), and their simply titled debut "Play."
Despite their young age (the pair are respectively 17 and 14, suck it Lorde!) they perform self composed songs that flit around music genres like crazed moths at a street lamp, going from folk to hip-hop, then to soulful pop, seemingly at the drop of a needle. Those were skills that came in handy as they trod the dreams of older competitors in a Korean "American Idol" knockoff show, winning them their record deal last year.
On record, this genre mishmash ends up producing an idyllic portrait of an exotic summer that exists only in dreams. Things like the glorious opening piano parts in "Melted" could have been lifted from a Hayao Miyazaki film soundtrack, if Schroeder from Peanuts was making a cameo. While the mellow but potent vocal range of Lee Soo-hyun and her brother Lee Chan-hyuk's competent singing/rapping stand on their own really well, the magic is when their voices blend together in that fraternal voodoo that the Everly Brothers pioneered so long ago.
It is harmonies like that which turn the simple, blunt innocence of songs like "200%" into heat seeking pop masterpieces, and reinforces the sense of natural peace that pervades in the record. Chan-hyuk also has a deep sense of groove, since a lot of songs are resting on his rhythm guitar playing, and it's a treat to hear he's got a solid right hand on him (check opener "Give Love," and "Anyway" for his tightest rhythms). There is also the occasional hip-hop influence, especially on "Idea," which kind of feels like a Pitbull track stripped of over-the-top tempos and energy, which is not that bad, but it does not exactly fit with the rest of the album.
It is an amazing piece of work, especially considering the potential these two have if they could already get this far. If you want to really go ringing into the warmth and the breeze of a new summer, try making "Play" your soundtrack for it. If nothing else, it will keep your spirits up through the drudgery of finals.