Touché Amoré album offers a fast-paced, creative progression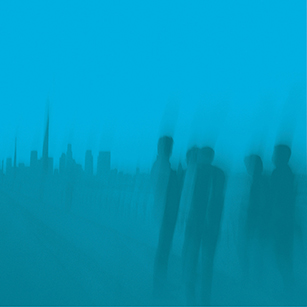 Touché Amoré, a Los Angeles-based post-hardcore band, recently released their third full-length album, "Is Survived By." Needless to say, the average fan would agree that they did not disappoint.
Since their groundbreaking debut EP in 2008, the band has been known for their fast-paced and hard-hitting style in their genre. Their first two LPs fully captivated their heavy punk rock sound while highlighting lead singer Jeremy Bolm's confessional and emotional lyricism. After countless touring around the world, Touché Amoré was finally ready to follow up their recent success with "Is Survived By."
After the first few listens through this album, it is clear that Touché Amoré worked much harder when it came to structuring songs. This album shows the band's transition from a small hardcore band playing quick and heavy tracks non-stop to seasoned musicians that can master a song's aesthetic and melody. The average length of a track on the album clocks in around two minutes, which is a great addition that the band seems to have perfected.
Some of the best tracks on the album fully capture the classic sound that Touché Amoré is known for. "Just Exist," the opening song and the lead single, features a busy drum track that hits harder than normal, and the guitars' melodies sweep in to assure that the band clearly keeps their post-hardcore roots intact. Other gems on the album are "Anyone/Anything," "Steps," "DNA" and the title track. These songs are sure to be introduced into the daily set list for their live shows and they will be the new fan favorites from the album.
Another amazing aspect of the album is, unsurprisingly, Jeremy Bolm's lyricism. Although his actual voice is perceived to be hard to understand, his shouting attitude is only disguising the angst and emotions of his lyrics. A lot of the songs on the album feature the main theme of questioning self-existence and the internal mindset of an outcast. These song concepts can be easily found in Touché Amoré's past discography, and some of the lyrics are more memorable than others ("A glutton for praise/a glutton for love. Abuse my name for all of the above"). Every song features the melancholy and emotional concepts that Touché Amoré is known for.
Overall, "Is Survived By" is an exceptional addition to Touché Amoré's discography. Every aspect of their sound is present, with just enough creativity and variety to distinguish itself from their past releases. Many of their followers, not to mention post-hardcore fans that have yet listened to Touché Amoré, will be satisfied with the new album.