New parking passes issued to avoid abuses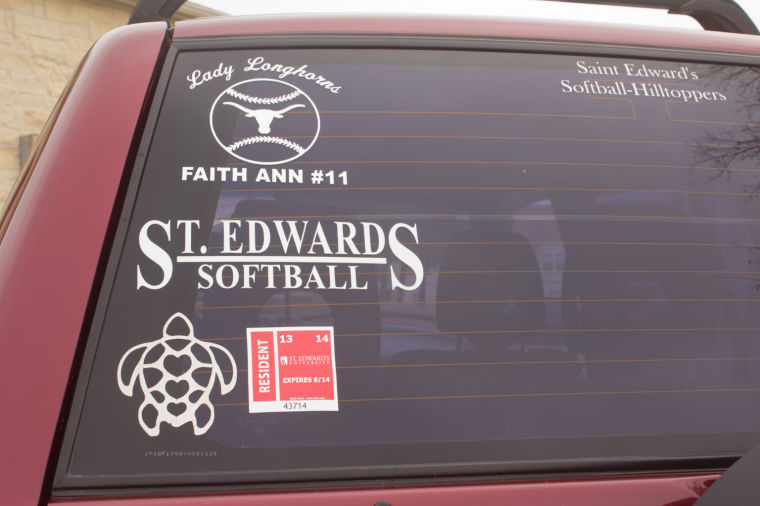 Staff Writer
September 10, 2013
An unexpected change accompanied the start of the fall semester. St. Edward's University decided for the 2013-2014 school year to give students sticker parking passes rather than the hang-tags used in previous years.
"We received input from some faculty, staff and students that individuals were using the convenience of the hang-tags to park illegally," director of Auxiliary Services Michael Stone said.
The hang-tags allowed students to switch out their tags and park in unauthorized areas. The University used stickers previously to enforce parking on campus, and these parking violations sparked Auxiliary Services to transition back to parking stickers. Parking is divided strategically with designated colors and areas on campus. Ultimately, Auxiliary Services decided to switch to stickers again to improve campus police enforcement on parking regulations and violations.
"We changed from stickers to hang-tags a number of years ago to make changing permits from year-to-year easier and to make the use of the permit more flexible," Stone said.
Stone said that flexibility was a huge concern for people. Hang-tags allowed individuals who drive more than one car to easily remove and use their parking pass. However, officers from the University Police Department expressed to Auxiliary Services that stickers are more visible and permanent, and a better option.  
"In my opinion, I like the stickers, but would prefer for them to be placed in the inside of the car where all the other state stickers are placed," says junior Gabriela Aguilar. Auxiliary Services said that there are mixed reactions so far on this change to parking stickers. "Frankly, it is highly unlikely that there will ever be any change in campus parking regulations that will please everyone," Stone said.
"I feel the stickers may and can be taken off or stolen from a person's car and be placed on another," says junior Maribel Hernandez.
Each student registers their car with Auxiliary Services, and is giving a specific pass to avoid theft issues.  Students, faculty and staff can obtain parking permits by registering their motor vehicle(s) on Edweb and visiting the Hilltopper Card office in Holy Cross Hall Room G12. Members and visitors of the Hilltop community can find more information, facts and questions, and a uniquely designed parking map online on the University's website.