Munday Library provides new study amenities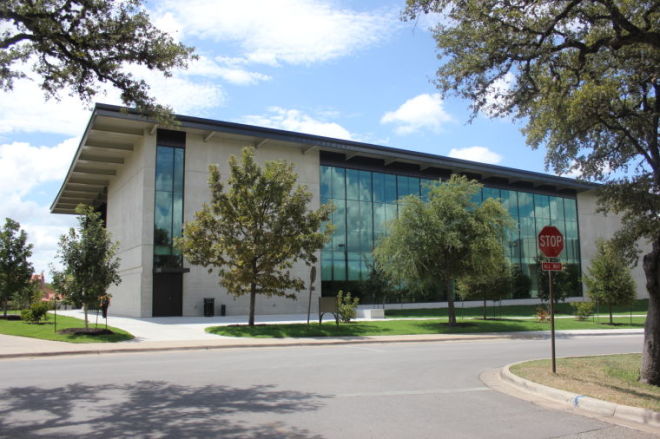 Reporters
September 10, 2013
Just in time for the first "Munday" of class, the new Munday Library opened for all St. Edward's University Students on Aug. 26.
Bill and Pat Munday donated $13 million two years ago for the project. However, the last of the furniture was built only hours before the first students would start making use of it.
The building has gone up at "breakneck speed," according to the Library's Director Pongracz Sennyey.
Although the library is open, a crucial component is missing: books. Many of the books that the library stored in Doyle Hall last year are still in boxes. For now, students will have to do their reading from the library's electronic collection.
"Right now, we're waiting on end panels for the shelves to get refinished," the Collections Librarian Kady Ferris said.
Despite the lack of books, the Munday Library offers many amenities that the former Scarborough-Phillips Library lacked. The new library has state-of-the-art video and audio recording facilities.
It is the new home for the writing center and media services. It is also complete with two global digital classrooms that allow professors and students to interact with partnership campuses around the world.
Also, there are 15 group study rooms, which is 13 more than the old library. The majority of these rooms feature Smart Boards, which are interactive white boards.
The Munday Library also 
features a floor-to-ceiling glass wall looking towards South Congress Ave. 
The spacious loft space has Sennyey most excited.  
"To me, that is the most intriguing place, and I'm interested to see how the students will interact with it," Sennyey said. 
Although, students have various opinions about the opening of the new library.
"The old building isn't nearly as big as this is, and that will make finals cramming way easier," junior Jack Sanders said. 
However, senior Isabel Raya has a different opinion about the new library.
"I think cozy furniture would be cool," Raya said. She also stated that she thinks the building's architecture is nice, but that it doesn't have the homey feeling that the old library had. 
Professors see the new library teaching oppurtunity with the library.
 Assistant Professor of Theater Arts, Everett Lunning, likened the Munday facility to a fresh tool for instruction, confident that the new library would be "a catalyst for enlightenment."
Other instructors praised the artistic elements of the building. 
"The Munday Library has brought a profound new architectural element to our campus.  The designers have managed to make the building contemporary and spacious, yet still warm and inviting," Professor Susan Whiteside from the School of Humanities said.