Facebook group propels students into post-undergrad world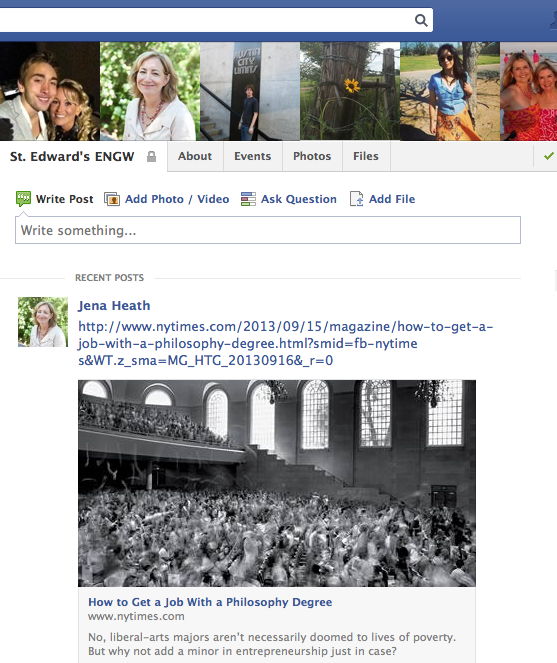 Staff Writer
September 13, 2013
At 186 members and counting, the English Writing & Rhetoric Facebook group serves as a place for both students and professors within the English department to connect. Started by former ENGW professor, Quinn Warnick, two and a half years ago, the group's purpose has evolved throughout the years.
 "We talked about ways to make the major feel more cohesive, [so] it's not just some random students you see in classes every now and then," ENGW professor Ryan Hoover said.
Hoover and other ENGW faculty originally envisioned the page would involve students talking about St. Edward's University events going on around campus or classes they were taking. Instead, the Facebook group has grown into a hub for job-networking.
"It's serving a role of moving you beyond college and into the work force and into grad school. That is, to me, much better than our idea of just a place to talk about things going on around campus," Hoover said.
ENGW students seem to enjoy getting on the Facebook page and view it as a valuable tool.
"I think it's helpful because they post information about jobs and useful articles for English Writing & Rhetoric majors," senior ENGW major Melissa Mendoza said.
Senior ENGW major Breann Hunter agrees, "I always enjoy getting on the Facebook page. It makes the English Writing & Rhetoric department feel like more of a community."
Students can often see news about jobs or internships put up by other students or professors. A professor will also inform others in the group about a student getting a job, an article published or other celebratory accomplishments. Hoover thinks students are motivated when they see a fellow ENGW major get a job in their field or accepted into graduate school.
"I think there's a snowballing inspirational effect," Hoover said.
When a person glances at the ENGW page, they'll see the page is active, updated almost every day by both professors and students. Some professors post career advice, ranging from articles about cover letters to graduate school.
Although the ENGW Facebook group seems to be an active page for students and faculty to collaborate, other majors at St. Edward's aren't doing the same. When doing a quick search for a Facebook group for any major on campus, the results are slim only bringing up Facebook pages for the School of Education, the School of Natural Sciences, the chemistry department and economics department. Facebook groups have also been created for English Literature students and the journalism department.
The difference between other Facebook groups and the ENGW group is the chance for interaction. When looking at the other Facebook pages, there isn't the same type of everyday interaction between students and faculty compared to the ENGW group. The ENGW group also has a large membership.
Hoover thinks the Facebook group's success has a lot to do with writing and social media skills being something ENGW faculty and students are already interested in.
"It's so related to what we do. For a lot of the faculty we are very comfortable with social media…and it's a little more akin to who we are. It's closer to what we do as a major," Hoover said.