New director brings teaching, volunteer experience to campus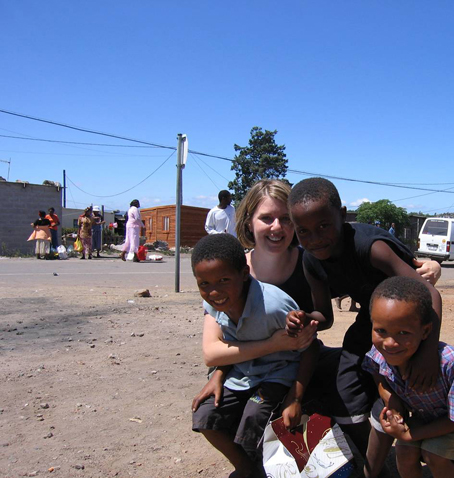 A new Director of the Office of International Education has joined us on the hilltop this semester; Holly Carter came to us all the way from Queen's University Charlotte in North Carolina.
Carter's first order of business is decorating her office. Carter was elated about painting the plain white walls with light pink stripes. She knew she'd be spending a lot of time in her office and wanted to make it fun and comfortable. Carter was bubbly and beyond excited about her new job.
"The job was a perfect fit for me," said Carter.
A friend actually showed her the job listing, and she felt like the job description was written for her. Carter is fluent in French and also lived in France part of her teenage years, so she loved the tie in Angers, France that our campus has.
Carter was highly qualified for the job. She was the Director of the Center for International Education, Assistant Provost and Assistant Professor of Health at Queen's University. On top of all that, Carter has two undergraduate degrees in social work and French. She also has five masters' degrees in philosophy, social work, education, sociology and public health and a PhD in sociology/health sciences research.
Carter even studied abroad herself at the University of Glasgow in Glasgow, Scotland and at the University of Roehampton in London, England.
However, setting up an interview with St. Edward's University posed quite a challenge. When Carter got the callback for an interview, she was in Romania building houses with Habitat for Humanity.
"I have done nine international builds [with Habitat for Humanity] and will build in Nicaragua, Macedonia and Argentina this year," said Carter.
After a few days she was finally able to connect with the university. Carter competed against 120 applicants for the job position. Only three people were interviewed and she was one of them.
"Holly is a leader in the field and has extensive experience in a variety of areas:  campus leadership, overseas program director experience, teaching domestically and abroad, and program development," said Bill Clabby, associate vice president for global initiatives and leader of the selection committee for a new director for the OIE. "As a Habitat for Humanity group leader she brings a unique set of experiences and skills that will help us create some new and interesting opportunities for our campus community." 
Carter replaced the interim director Esmeralda Hoang who was appointed after the previous director Stephen Kazar left in April of 2012, said Laura Ray, assistant international advisor for the Office of International Education.
"In unison, we're all really happy to have a director. We're all relieved and happy to be fully staffed again," said Ray.
At Queen's University, 92 percent of the students studied abroad. Study abroad was actually included in the tuition and all juniors could select a study abroad experience free of charge, said Carter.
Carter said that, "[Getting to] 92 percent would be very difficult…for many reasons. I think we can get to 50 or 60 percent with all of the programs on campus working together."
The current percentage of students who study abroad from St. Edward's University is currently unknown, said Carter.
"We are now at a point where we will work more strategically with campus schools and departments to further integrate these opportunities into the fabric of the academic and personal lives of our students, faculty and staff,"  said Clabby. "This is an exciting time for all of the St. Edward's community."