Despite fame, highly talented a cappella group remains humble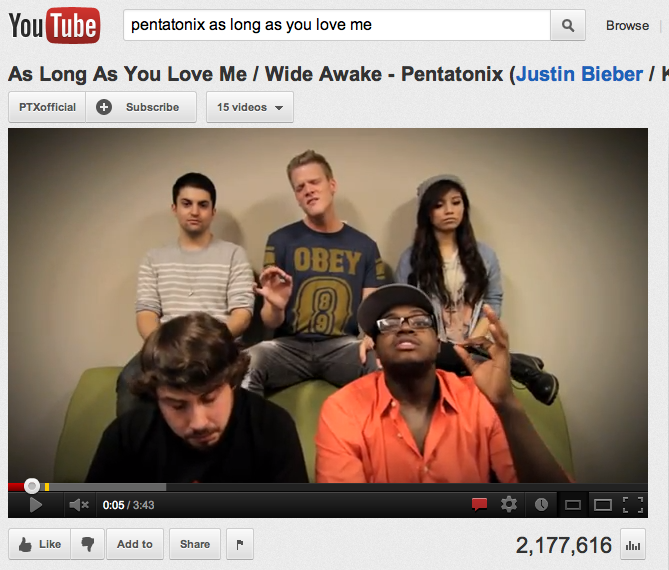 Life & Arts Editor
October 23, 2012
A cappella group Pentatonix represents everything that is great about music. The five members of the group performed at The Parish Friday night.
Pentatonix is made up of Mitch Grassi, Scott Hoying, Avi Kaplan, Kirstin Maldonado and Kevin Olusola. Grassi, Hoying and Maldonado sang in the choir together at their Arlington, Texas high school. They added Kaplan and Olusola before auditioning for, and winning, NBC's "The Sing-Off." Pentatonix released their EP–"PTX Volume 1"–in June and are touring the country.
The main singers are Grassi, Hoying and Maldonado, with Kaplan as bass and Olusola as the incredibly gifted beat-boxer. Kaplan's bass contrasts Grassi and Maldonado's sopranos, all of which surrounds Hoying's powerful voice and is timed perfectly to Olusola's beats. 
Pentatonix mainly performs covers of pop songs, such as "You Da One" by Rihanna, and original songs  like "Show You How to Love."
Pentatonix are so brilliant that you don't want to sing because then you would miss a chance to hear their voices. 
It is hard not to be impressed when the entire venue is vibrating all from beat-boxer Olusola's powerful voice and the octaves encompassed between Kaplan and Grassi make you believe you are listening to a full church choir. Combine all of this with their extreme energy on-stage, which includes jokes and choreographed dance numbers, Pentatonix puts on a concert that is hard to forget.
Most likable about the singers, perhaps, is their modest and friendly demeanors. Having only recently gained national attention, the pentad has yet to become pretentious, like so many once-humble public figures we encounter. 
The singers repeatedly reminded the audience how much they loved them, thanked them for their support and told them they were the best audience they had ever had. As the singers started a new song, Maldonado, the sole female in the group, sweetly whispered to a girl in the front row, "Your shirt is cute!" The concert felt more like listening to your friends perform rather than a production from celebrities.
The crowd interaction made the concert even more entertaining; they brought a shrieking fan onto the stage to be serenaded to and even orchestrated the audience to create their own harmonies.
Pentatonix acted as friendly as if talking to a friend while participating in a meet-and-greet after the show to sign autographs and take photos.