Annual tuition costs continue to increase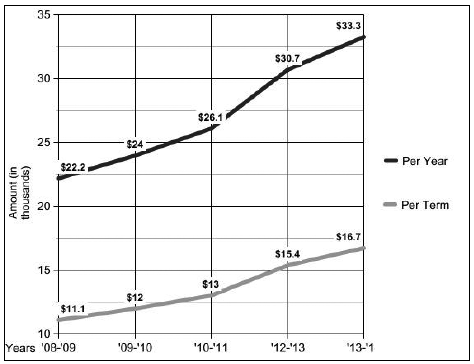 Annual tuition at St. Edward's University is now $30,710–a 7.8 percent increase over last year–and is slated to jump to $33,320 for the 2013-2014 school year.
Tuition has risen steadily in recent years, from $20,040 in 2009-10, to $26,084 in 2010-11 and $28,300 last year. Overall, tuition has jumped 34 percent since 2009, when many current seniors enrolled in the university.
"My family can't afford to pay tuition out of pocket so we've taken loans all four years of my education. When we looked at the total amount after I graduated, it seemed reasonable once we factored in my scholarship," senior Sara Greenshields said. "We didn't imagine St. Edward's would increase the tuition so sharply while I was still a student. When I add up all my loans, I'm terrified of how I'm going to pay them back."
Tuition increases are necessary to support a growing campus and stuent body, university spokeswoman Mischelle Diaz said.
"First of all, it is important to recognize what tuition increases cover … [Tuition covers] the quality of education and it improves the value of the degree earned," Diaz said.
Vice President for Marketing and Enrollment Management Paige Booth said the increase in tuition over time is necessary and applied towards services available to the current student body.
"Tuition increases support the improvements in quality envisioned in the university's strategic plan," Booth said. "The benefits of past tuition increases are enjoyed by students today."
Booth said that the aforementioned benefits include new dorm renovations, landscaping and bike racks.
Eighty percent of the student body receives financial aid such as loans and scholarships. According to the St. Edward's fact sheet, total amount of grants and scholarships awarded 2010–11 was $43 million, but rise in the cost of college still affects students.
Senior Daniela Galindo says she was confused as to the source and subsequent reasoning of the increase.
"[The increase] is a fee that I didn't think I would have to pay so close to graduation. Since last year, I've had to take another loan," Galindo said. "I feel like we're not informed as a general population [at St. Edward's]."
Booth said that the simplest way to "control the cost of college is to follow a degree plan and graduate on time."
According to St. Edward's Admission website the tuition for fall and spring 2013 will be $16,660.